Mechanical design provides the foundation for breakthrough products. Applied Engineering can help you turn an idea for a product or machine into a working model, meeting all of your physical and performance requirements. Your creative vision can cost-effectively become reality by leveraging Applied's extensive experience in 3D CAD modeling for companies across many industries. Applied's talented team of engineers will work at your site or in our design centers using the latest tools to help you with design and documentation.
How Applied Fits
Applied's mechanical design engineers can help you: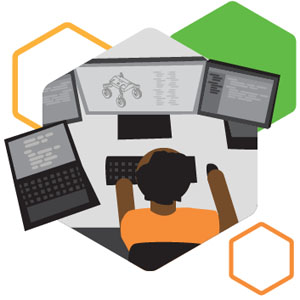 Design and develop structures, machines, sheet metal parts, plastics, castings, hydraulics,electrical systems, and a wide variety of other components and systems.
Model detailing, documentation, and CAD data management.
Produce and publish technical documentation of operation manuals, service manuals,
parts manuals, and other documents.
Design with industry-leading CAD packages, including SolidWorks, Autodesk Inventor, Pro/ENGINEER, Unigraphics NX, and others.
Let's Get Started
Applied Engineering provides you with local convenience and flexible scheduling, so we fit into your budget right where you need us. Whether you're located in Minneapolis, St. Paul, Fargo, Eau Claire, Sioux Falls or anywhere in between, Applied can help. Build your next project while building a partnership with mechanical design experts at Applied Engineering. 
Get a Free Consultation:
What Customers are Saying
"Over the course of the project, the engineer provided by Applied produced over 1200 fixtures at a cost that was 25% less than having a full time mechanical designer on staff. Our product design cycle is now within a day or two because of the engineers' expertise in utilizing the design features of our software. Without Applied we would be limited in the new customers we could seek out as well as the size of projects we can go after."
-Jim Scheu
 Operations Manager, Quality Tool Service
Recent Projects
Below are some recent design and engineering projects completed by Applied Engineering.
You can input search terms to filter the results.

| Software(s) Used | Project Type | Industry | Project Overview |
| --- | --- | --- | --- |
| SolidWorks | Automated concrete panel surface finish wet sand blaster | Construction | A customer contacted Applied in need assistance designing an automated concrete palen surface finish wet sand blaster system. We started with the basic concept of what they were trying to accomplish for their customer and, through the design process, developed a complete system from the bottom up. |
| Autodesk Inventor | Hydrocyclone Aggregate classification equipment | Agriculture/Aggregate | A company needed assistance developing a new design for a series of hydrocyclones for classifying raw aggregate material into varying material classes. Applied was able to assign one of our mechanical engineers to assist in designing other novel classification equipment for new product lines they wanted to expand upon. |
| SolidWorks | Diesel Engine 3D file conversion | Automotive | The customer had 3D CAD files in a universal file format and wished to have them converted to SolidWorks format. Once our engineers completed the conversion, the customer then needed assistence for a series of add on components to be designed to fit the engines. |
| SolidWorks | Wind generator blade gelcoat and fiberglass application trolley | Energy | This client needed modifications made to a trolley system they had purchased from their vendor. Applied engineers were tasked with the designing of additional components necessary to lengthen the trolley, as well as fabrication and installation of the finished product. |
| Creo | Wheel loader fender lift cart | Agriculture/ Construction | A company contacted Applied needing a new fixture designed to aid in lifting the fenders up for installation without the use of overhead chains or cranes. An engineer was sent out to design the wheel loader fender lift cart, and see the project through completion. |
| SolidWorks | Portable refrigerated cooler design | Consumer Products | This customer needed help developing their design for a liquid carbon dioxide powered refrigerated food cooler. An Applied mechanical engineer was tasked with the project and sent over to work along side their design division. |
| SolidWorks | Ice cleat design | Retail | A customer needed several modifications made to their already existing product line of slip on rubber ice cleats for boots and shoes. By contacting Applied, a mechanical engineer was able to be brought on in a timely fashion to work right alongside the design team. |
| SolidWorks, SolidWorks Simulation | Induction heater | Automotive | An Applied engineer was brough on and designed automated manufacturing equipment for a customer. The process included engineering a custom induction heater matching that matched all of the customers specifications. |
| Creo, MS Office products & Team center. | Product Design | Agriculture | An Agriculture design company contacted Applied in need of a mechanical engineer to assist with some of their design projects. The engineer was brought on, and was able to fit seemlessly into the design space. |
| Autodesk Inventor | Product Design | Retail | The project included creating assemblies to show the differences in types of sills, side jambs, and head jambs that were being packaged. In addition, drawings and presentation views were created to document how the new door was being packaged and shipped. Applied created the standards that could be followed throughout the company for future packAgricultureing lines. |
| Creo | Current product engineering | Agriculture/Construction | A client turned to Applied for assistence with designing new and improving current products. Customers of this construction company have requested new buckets and components for their current machines. An Applied mechanical engineer designed the new models to fit multiple OEMs. |
| Creo | Extralink for releasing and vaulting models and drawings. | Agriculture/ Construction | Our Applied enginner assists in the design of custom skid steer attachments right along side the design team. The designs created may be for customer orders, R&D, or revising current attachements for the customer product line. |
| Creo | Warranty Analysis | Agriculture | We had a customer contact us that was recently having trouble with warrantee issues. The engineer from Applied suggested an alternate latching mechanism for which to provide kinematic and static analyses. This drastically reduced the warrentee issues the client was facing, thus increasing revenue. |
| Autodesk Inventor | Data translation | Mining | A company needed to hire an engineer to fill a temporary position for a project. An Applied engineer was tasked with converting 2D AutoCad prints into 3D models and drawings of their existing products. |
| Autodesk Inventor | Assembly fixtures | Mining | Applied received a request from a mining company in need of a mechanical engineer. One of our engineers was sent over and tasked with designing fixtures and documenting the assembly process. |
| Creo | Plastics design - Die casting design | Agriculture/Construction | A customer came to Applied with a project that included designing custom electrical connectors, die-cast aluminum housings/heatsinks, and injection molded plastic housings/coverscontroller to be used on diesel engines. |
| Creo | Vehicle Interior design | Automotive | One of our mechanical engineers was put on the project of designing parts for vacuum formed plastics, compression molded rubber, and composites (headliner). |
| SolidWorks | Automation equipment design | Automotive | An Automotive company contacted Applied in need of a mechanical engineer to assist with some of their automation equipment design projects. The engineer was brought on, and was able to fit seemlessly into the design space. |
| SolidWorks | Project Engineering | Agriculture | A client needed solidworks expertise because they had primarily been using 2D AutoCAD to design their new tender. Applied provided an engineer with solidworks expertise in order to convert and help complete their projects |
| Ansys FEA, Creo | FEA Analyst | Agriculture/Construction | A customer needed another analyst to help get through their backlog of analysis requests. Applied sent over an experienced employee to help with the heavy project load the customer was facing in a timely manner. |
| SolidWorks | Automation equipment design | Food Industry | One of our engineers worked primarily on updating scans of hand drawn prints to a 3D model and new prints. Changing some design aspects as well as creating the platforming with all the OSHA regulations and rails and guarding. |
| Microsoft Office products, specialized software for production tracking, accounting, change management, and test data | Program Management | Agriculture/Construction | The tasks Applied was needed for included coordinating multiple projects and continuous improvement activities, managing agricultureing cross functional teams, supporting resolution of production issues, and clearly communicating updates to the customer. |