At Applied, we are engineering new ways to meet your goals. Our full-time engineers and software development specialists bring high-caliber talent and technology to your company that blends in perfectly with your culture.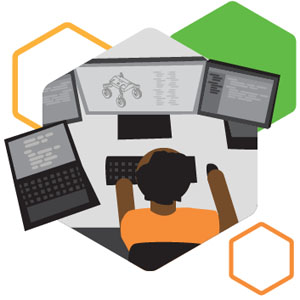 We can step in to fill any gap that is preventing you from completing your project or reaching your goals. Whether you need help designing a new product, automating your manufacturing processes, organizing your data, or you just need an extra set of hands or a fresh pair of eyes to finalize your project – Applied is there.
From Creo to C#, our full staff of talented engineers and software developers are here to help you overcome your manufacturing and development challenges.
Design
Every product and process begins at design. Applied's staff of talented engineers can assist at any stage of the product lifecycle. We have experience with mechanical design, electrical design, analysis, reverse engineering, prototyping, and more.
Manufacturing Support
When it comes to manufacturing, there are a lot of moving parts… literally! Applied is here to make sure everything moves smoothly, so you can get the most out of your processes – saving you time and money. We specialize in line support, process design/review, plant layout, work instructions, welding/assembly fixtures, automation, and labor optimization. 
Software Development
Technology is at the forefront of every successful business. Applied knows how to help you get the most out of yours. Our highly skilled software developers are here to help you automate workflows, reduce error, manage data, and more. We can create custom applications to improve your processes in a framework that works best for you.
Have questions? Let's talk.