Manufacturing Engineering
Operate at your full potential. Our skilled engineers specialize in plant optimization and layout to make your manufacturing facility work better for you. We'll assist with industrial automation, tooling and fixture design and build, and even process design.
Solving manufacturing engineering challenges results in: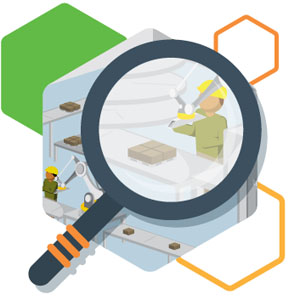 Shorter cycle times
Material savings
Cost savings
We are experienced in:
Line support
Process design / review
Plant layout
Work instructions
Welding / assembly fixtures
Automation
Labor optimization
Manufacturing Efficiency
Let's Get Started
Whether you're located in Minneapolis, St. Paul, Fargo, Eau Claire, Sioux Falls or anywhere in between, Applied can help. Contact us for a free consultation to discuss your manufacturing challenges, and see how we can improve your business.
Get a Free Consultation:
Recent Projects
Below are some recent manufacturing projects completed by Applied Engineering.
You can input search terms to filter the results.

Software(s) Used
Project Type
Industry
Project Overview
SolidWorks
Packaging evaluation
Manufacturing
A customer asked Applied to come in and evaluate their packaging methods and provide suggestions for improvements. They also asked for suggestions on how to create drawings for all of their finished goods products. We provided guidance on how to test and improve their packing methods and are currently quoting a system to automatically generate the drawings they need for their new MRP system.
Creo
Lifting tool for an oil services company
Energy
A client contacted Applied needing to produce a set of detailed drawings and a certification report referencing the applicable standards. We sent over one of our many capable engineers to complete the project.
Minitab
Quality Engineer
Agriculture/ Construction
One of our maufacturing engineers was tasked with using statistical tools to evaluate measurement systems and process variability. Then translating the statistical outputs to identify and design opportunities to improve manufacturing processes.
Adobe FrameMaker and Creo
Writing standards on hardware specifications
Construction
A construction company contacted Applied in need of a manufacturing engineer to assist with some of their writing standards on hardware specifications. The engineer was brought on, and was able to fit seemlessly into the manufactural design space of the company.
Creo
Fixture redesign
Agriculture
Applied was contacted by an ag company in need of a manufacturing engineer to increase efficiency by redesigning part fixtures to maximize the fixture that is already in place to reduce costs of producing new fixtures.
AutoCAD
Moving manufacturing lines to make room for new product lines
Construction
A contruction comapany needed a engineer with expertise in manufacturing. An engineer was but on the project of designing manfacturing line layouts. The were also tasked with following up by running time studies and presenting the findings.
Creo and AutoCAD
Construction and aggregate handling equipment specifically working on skid steer loaders and gravel conveyors
Construction
Applied was brought in a design capacity to help improve speed to market and to meet customer deadlines. We achieved this by taking on aspects of projects that the customer did not have the time or staff to do themselves
Microsoft Project and Creo
Creating, prototyping, and troubleshooting harnesses for new compact loaders.
Construction
An Applied engineer developed a new way to route a harness in a high vibration area and still allow the harness to move over a harness length of 30 inches. Prior to this project, harnesses were stationary and tied down every 8-10 inches to prevent rubbing issues. The project has saved $330k annually since 2012.
Microsoft Project and Creo
Quality improvement/ cost reduction
Manufacturing
An Applied engineer evaluated ideas submitted from employees and addressed the quality improvement and/or cost reduction projects. Applied managed projects with minimal oversight from customer and took projects from the idea stage all the way to implementation (this includes project validation, design, testing, tooling, sourcing, and manufacturing)
AutoCAD
Drafting
Industrial conveyor manufacturer
An industrial converyor manufacturer needed engineering documentation support to their design team. Applied sent over a specialized enginner to fit their needs in a timely manor.
SOMAT data acquisition
Testing and product design validation
Construction/ Manufacturing
A construction equipment manufacturer needed help with testing new product designs to give validation to the new designs. Applied has supported their hydraulic testing needs by providing a manufacturing engineer.
AutoCAD
Testing
Construction/ Manufacturing
Applied was contacted by a construction company needing help with instrumenting machines with test equipment, conducting physical testing, working with data acquisition systems to record testing, using special software to analyze data, communicating results, and writing reports.
Creo
Product Design
Construction
For the mini excavator equipment line of a contruction company, Applied designed and developed new product, along with cost savings/value adding projects which include design of plastic covers/styling, castings, hydraulic hoses and routings, and sheet metal components and weldments.
Solid Works
Custom automation machine design
Automation
Applied was brought in to increase manufacturing efficiency by streamlining processes for manufacturing and finishing products. This will save the company both money and time in future.
Creo, AutoCAD, MS Office

Process Engineer
Agriculture
The project Applied was brought in on included responsiblity for multiple processes related to manufacturing of Printed Circuit Boards. This included setting up new products/prototypes on the line, reduce/eliminate manufacturing defects, practice and apply safety ergonomics/lean manufacturing, and oversee design/manufacture of various tooling.
MS Office
Process Technician Supervisor
Agriculture/Electronics
An Applied engineer was brought on in a managing position in order to manage production support technicians (14 people) and ensure communication and reviews/deadlines/goals stay on track for the group.
Creo and AutoCAD
Manufacturing engineer
Constuction
Applied was contacted by a construction company in need of an engineer who would be in charge of sustaining operations, equipment, and finding opportunities to improve the process of welding excavators.
ERP/PLM systems
Project Management
Agriculture
One of our Applied engineers worked with ERP and PLM systems specifically designed for a customer, as well as some use in SAP Customer needed project/program management support for projects relating to cost reduction opportunities, product improvements, customer requested product changes, etc.
PLM tools and MS Projects.
Program Manager
Agriculture/Construction
Applied was contacted in order to Manage various projects for a construction company on current production products. By utilizing applieds services, the company reduced costs and improved the quality of their products.
data acquisition systems (eDaq, LMS, and Dewesoft) along with data processing software like nCode Glyphworks.
Test Engineering
Agriculture
An agricultural company needed an engineer whose focus would be towards noise, vibration, and harshness (NVH) of tractors by collecting data processing results, and reporting the findings to different groups within the customer's engineering groups.
ProE
Hydraulics - Quality/Manufacturing Engineering
Agriculture/Construction
A company was facing issues with contamination from their machining operations causing leaks in their hydraulic cylinders. Applied works to keep parts that will be transported to the assembly line at the hydraulic cylinder facility clean until they will be used for assembly by designing carts and researching different totes that will keep parts that have been machined clean while they sit.
AutoCAD and Creo
reconfiguring assembly line layouts and the associated manufacturing processes.
Agriculture/ Construction
A company had an elevated work load due to adding an additional product to their current line, so Applied assisted in reconfiguring
the assembly line to accommodate the additional product.
Creo
Manufacturing
Construction
The project Applied was contact for involved supporting the production floor and redesigning a part to increase ease of assembly and reduce costs. This includes updating the models, prints, ECO's and following the proccess through to implementation.
CREO/Pro-E for model evaluations as well as CNH specific software
Product Management
Agriculture/Construction
Applied evaluated warranty issues, proposed features, and evaluated the solutions. By working with other team members on a global scale to target and follow through on implementation, the product management team worked to increase company efficiency.
Unigraphics
Systems Design
Aerospace
A client contacted Applied in need of an engineering manager to support the design and development of the Cargo Handling System while managing critical path milestones in order to see the project through completion.
Infield, NCode Glyphworks, Somat TCE, LabView, CSMconfig, Microsoft Office, and Creo
Test Engineering
Agriculture/Construction
Applied helped with vehicle tests and PTO dynamometer test groups. The project objectives were to instrument machines, troubleshoot electrical and mechanical problems as they arise, and report the test results to the appropriate teams.
AutoCAD and Creo
Manufacturing /Industrial Engineering
Construction
The project Applied was contacted for included a new facility layout, layout changes and process/material flow. Applied's engineer additionionally helped with, fixture design an setting up of weld cells throughout the facility.