Improve Product Performance with Finite Element Analysis
Applied Engineering has a highly knowledgeable analysis group experienced in multiple facets of structural and computational dynamics. Leveraging these technologies is critical in obtaining accurate answers in many applications. Applied Engineering has the tools and experience to take the understanding of your mechanical designs to a whole new level.
We'll use our resources and experience to analyze your complex systems with the latest digital simulation tools, allowing you to reduce your physical prototype costs and build more reliable products.
Watch the video below for an overview of Finite Element Analysis.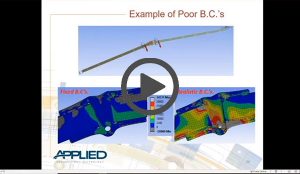 Contact Applied Engineering today for a free consultation.
Autodesk Simulation Software
Autodesk simulation software helps you predict, validate, and optimize your products using accurate analyses that you can trust. Autodesk's comprehensive simulation software portfolio offers solutions for mechanical simulation, computational fluid dynamics, plastic injection molding, composite materials, structural, and manufacturing simulations.
Watch the video below to learn more about the benefits of Autodesk simulation software.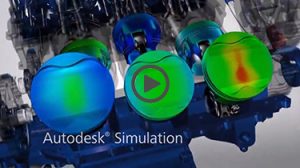 Contact Applied Engineering today to get a free consultation or to discuss your simulation software needs.
Finite Element Analysis – Reducing the Cost of Field Repairs
Our customer, Amber Waves, produces a variety of agriculture-related products, including large bin storage hoppers. These bins are built to hold grain or other 'flowable' material with extra heavy steel that is made-to-order and made-to-last. The combination of welded steel and aeration prevent contamination of the stored material.

The Challenge
Amber Waves wanted to reduce costly field service repairs and evaluate structural stability because the bin's capacity can exceed 500,000 pounds. Their primary concern was the design. Specifically, where the side walls met with the bottom cone and connected to the rest of the structure. Physical prototypes were too costly because of the short-run nature of each project and the size of each bin.
Our Solution
Applied Engineering went to work and gathered the information to create the digital prototype specifications, storage crop data, and grain loads.
Applied's experienced engineering staff used advanced 3D design and finite element analysis (FEA) software to analyze the proposed design. Static structural analysis was used to verify and optimize the strength of the design to ensure field performance and minimize repairs.
As a result, creation of a digital prototype was less than 10% of the cost to build a physical prototype. Applied gave Amber Waves the assurance that the new design would withstand the unique crop loading conditions in the field as a significant cost reduction.
Contact Applied Engineering today to discuss your analysis and prototyping needs.
Inventor Nastran – Use a Wider Variety of Study Types and Materials in Your Analysis
Autodesk® Inventor® Nastran, a CAD-embedded general purpose finite element analysis (FEA) tool powered by the Autodesk® Nastran solver, offers a wide-range of simulation spanning across multiple analysis types. It delivers a high-end simulation in a CAD-embedded workflow so engineers and analysts can make great products.
Watch the video below to see what you can simulate with Inventor Nastran.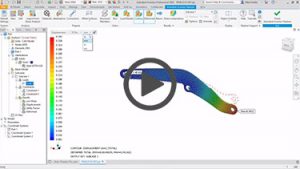 If you are interested in viewing a software demonstration of Autodesk® Nastran in-CAD, please contact our sales team. Applied Engineering is happy to schedule a face-to-face or web demonstration at a time that is convenient for you.