PRESS RELEASE: Applied Engineering Named One of 50 Best Places to Work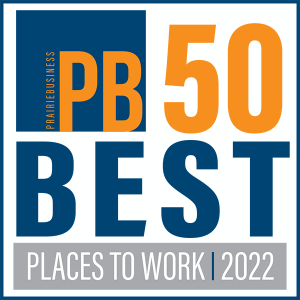 We are proud to announce that Applied Engineering has been named one of Prairie Business Magazine's 50 Best Places to Work for our 8th year! There were nearly 1,700 nominations this year, with employees citing workplace culture, opportunities for employee growth, teamwork and individual responsibility, and employee morale as reasons why their company is the best place to work.
Prairie Business editor, Andrew Weeks, said of the award: "How companies treat their employees, clients, and business partners – including the media – goes a long way in describing the culture of a business. So does how a company helps its employees grow, the offerings it provides for a healthy work-life balance, and the benefits it offers – all important factors in the success and wellbeing of a company and its employees; things that make employees want to stay long term."
We couldn't achieve this recognition without our amazing employees who make it a pleasure to work here every day.
Read the full issue here