Applied Fits Your Custom Software Needs
Applied Engineering helps businesses design and develop cutting-edge, innovative technologies fast and affordably.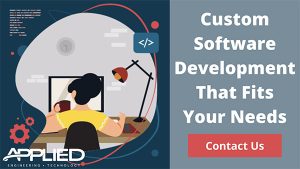 Applied Engineering has a full staff of talented people who possess a wide range of technical skills to help you achieve your goals. We've helped customers create custom online libraries, campsite reservation software, automate design and manufacturing processes, and more!
Contact us today to learn more about our software development capabilities.
Join our Team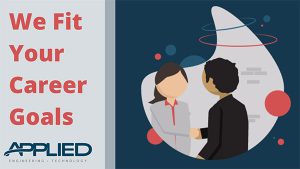 Why work for Applied Engineering? As a fast-paced technology company, we offer opportunities to learn and develop new skills, gain and apply knowledge, and take on leadership roles. Our dynamic environment offers diverse projects like product design, factory automation, web programming, web design and more.
Check out these job openings:
Electrical Engineer – Milwaukee, WI
As an Electrical Engineer in Milwaukee, Wisconsin, you may be tasked with: writing test plans and procedures, providing technical support to other departments, supporting new and existing products, designing and testing electrical designs, modifying and suggesting designs for continuous improvement in cost, quality, and performance, component and system level testing and operation, high power electronics design, and working collaboratively with suppliers and other Applied partners.

Human Resources Generalist – Fargo, ND
The HR Generalist is responsible for carrying out various human resources programs and procedures for all employees.
This may include, but is not limited to, processing employment changes such as wage changes, position changes, and maintaining employee records, presenting job offers, conducting new employee orientations and onboarding. This may also include assisting in the employee exit process. The HR Generalist plays a key role in the risk management, career development, employee ownership, and performance review programs. The position also includes assisting with research, updates, and revisions for personnel policies, procedures, forms, organizational training, and development efforts.
The HR Generalist works closely with the recruiting team, the supervisor team, and provides support for all employees throughout the company.  

Manufacturing Engineer – Gwinner, ND
As a Manufacturing Engineer in Gwinner, North Dakota, you may be tasked with: existing line conversions for new production, coordinating build ahead with operations, cell setup and integration, tooling design, capital equipment allocation, process documentation, efficient material and information flow for production, time studies and analysis, writing work instructions, and working collaboratively with suppliers and other Applied partners.