Optimize Manufacturing Efficiency with Factory Design
Using the Scientific Method for Manufacturing Analysis
The Scientific Method is a proven process for establishing data for decision making. Applying this methodology to Manufacturing Analysis can create actionable data without disrupting the production line. This is possible due the improvement in technology/software in recent years. The methodology and technology partner for creating actionable data for clarity on business investment.
Watch the video below to see how Applied Engineering can assist with manufacturing efficiency analysis.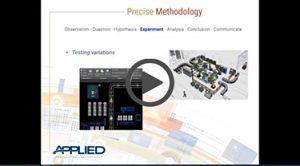 Contact Applied Engineering today for a free efficiency consultation.
Factory Design Utilities
Available in the Product Design & Manufacturing Collection, Factory Design Utilities software allows you to plan and validate factory layouts for the most efficient equipment placement to maximize production performance.
Watch the video below for a brief overview of Factory Design Utilities.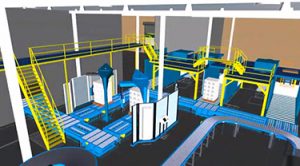 Click here to learn more about Factory Design Utilities or contact Applied Engineering to request a free software quote.
Optimize Factory Design with ProModel
Design your factory layout right the first time with ProModel Optimization Suite integrated to Autodesk® Factory Assets, AutoCAD® & Inventor®
Quickly define a process using Autodesk Factory Design Assets, and simulate your model with the click of a button. ProModel for use with Autodesk software allows you to seamlessly create, run, and optimize simulation models that you can synchronize with Factory Design Utility Layouts in AutoCAD and or Inventor.
Watch the video below to learn more.
Contact Applied Engineering for more information.
Autodesk Webinar: Managing Your Bill of Materials – the Recipe for Your Product Design
Wednesday, July 15th, 2020
12:00PM Central Time
Autodesk is broadcasting a live webinar Managing Your Bill of Materials – the Recipe for Your Product Design on July 15, 2020 at 10:00 am PDT / 1:00 pm EDT. In this webinar, attendees will learn how they can use Product Lifecycle Management (PLM) software to more efficiently manage their Bill of Materials.
During this webinar, you will learn how you can use PLM to:
Configure, manage, and share up-to-date BOMs across your organization
Compare different BOMs interactively with visual redlines to see changes
Include suppliers and customers in specific workflows for collaboration
Manage supplier qualification and approved supplier parts (AML/AVL)
Release your drawings to manufacturing with metadata
Upcoming Improvements to Autodesk Account User Management
In May 2020, Autodesk introduced some changes to Autodesk Account user management to improve customers' user experience for administrators.
Easier invite: Admins can more easily invite one or more new users at a time, including the option to copy/paste contacts from email providers, saving them time.
New assign button: Admins will see a new, clearly labeled button when assigning products to users.
New confirmation screen: When customers turn on or off additional features or change product access for specific users, a confirmation screen will now appear to avoid errors.
Updated look and feel: User management now appears in list view only, with an updated look and feel.
Admins will not need to take any action to access improvements. They will be oriented to these improvements through an in-account notification, and informed through Subscriber News launching May 13.
Click here to learn more or contact Applied Engineering with any questions.
Upcoming Webinars
Autodesk Factory Design Utilities Webinar
Monday, June 15th, 2020
11:00 AM Central Time
With Factory Design Utilities software, you can plan and validate factory layouts for efficient equipment placement that can improve production performance. Factory Design Utilities features industrial machining, facilities layout, engineering services, and process analysis.
This webinar will discuss:
Typical workflow
How Factory Design Utilities works with AutoCAD, Inventor, and Navisworks
How to develop an efficient 2D layout
How to develop an efficient 3D layout
Autodesk Named User Administration Webinar
Tuesday, June 23rd, 2020
11:00 AM Central Time
This webinar will cover everything you need to know about Autodesk's move to Named Users. Learn how to manage your users in the new Autodesk Named User Admin portal.
Topics in this webinar:
When the transition is taking place
How to manage/migrate licenses
How to switch activation on client machines
Questions/concerns
*This webinar will not discuss pricing. Please contact your sales rep for all pricing questions.
Vault Professional Duplicate File Analysis Webinar
Tuesday, July 21st, 2020
11:00 AM Central Time
Autodesk Vault is product data management (PDM) software that improves productivity. Everyone works from a central source of organized data—collaborating, reducing errors, and saving time.
In this webinar, you will learn how to:
Configure Duplicate Search range
Identify the overall duplicate status in Vault within the specified range
View and export detailed reports about duplicate parts
Find duplicate parts inside Vault for all part files within a selected assembly
Replace all instances of the selected duplicate part in the selected assembly
Place selected part from Search Results panel to the assembly
View details of the selected duplicate part, for example where it is used, when it was created
Open selected duplicate part from the Search Results panel in Inventor
Fusion Lifecycle – Customizing ECOs to Fit Your Workflow Webinar
Tuesday, August 4th, 2020
11:00 AM Central Time
Fusion Lifecycle is helps you accelerate your product development processes across all departments and locations by automating workflows, key tasks and delivering timely information.
Topics in this webinar:
Formal and fast-track workflows are provided, which can be easily configured to match an organization's exact process.
Change workflows provide a graphical representation of those processes to everyone within the organization.
The progress of specific Change Requests or Change Orders are managed real-time.
Monitoring status helps to quickly identify and resolve potential bottlenecks.
Inventor iLogic – Automation Made Easy Webinar
Tuesday, August 18th, 2020
11:00 AM Central Time
Autodesk's Inventor iLogic enables rules-driven design, providing a simple way to capture and reuse your work. Learn how to use iLogic to standardize and automate design processes and configure your virtual products.
This webinar will discuss:
Typical Bidding Process
Design Automation
Sales Automation
Steps to Adopt Automation