Applied Day 2020 Registration Now Open
Join us Wednesday, May 13th and Thursday, May 14th, 2020 for Applied Day!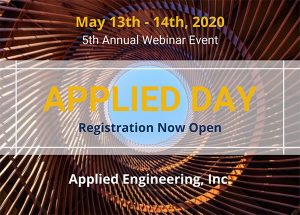 Applied Day is a great opportunity to attend free webinars hosted by Applied specialists covering a wide variety of topics. Whether you need a refresher course on Autodesk software, or you are looking to increase manufacturing efficiency, Applied Day has the webinar for you.
May 13th, 2020
9:00 AM: Automating Engineering Designs with iLogic
Join Applied application specialist, Jerry Oye, as he covers automation within Autodesk Inventor iLogic. iLogic enable rules-driven design that allows you to standardize and automate design processes.
10:00 AM: What's New Vault 2021
Join Applied engineer, Eric Miller, as he covers key enhancements available in the 2021 update of Autodesk Vault. Vault is an intuitive product data management that gives your team the ability to collaborate, securely retain and reuse product data, manage revisions, and more.
11:00 AM: Moving to a Containerized Environment
Join Applied application developer, Justin Kalvoda, as he discusses moving to a containerized environment for applications and development.
1:00 PM: Using Technology for Manufacturing Productivity Efficiency Analysis
Join Applied Engineering's Steve Thompson as he discusses using laser scanning to assess manufacturing efficiency. His talk will follow the laser scanning process all the way through to data analysis and calculating ROI.
May 14th, 2020
9:00 AM: AutoCAD Electrical 2021
Join Applied Electrical Engineer, Natalie Schroeder, as she covers updates available in the 2021 version of AutoCAD Electrical. During this webinar, she will go through workflows and tips and tricks for using the software.
10:00 AM: What's New Inventor 2021
Join Applied application specialist, Jerry Oye, as he covers key enhancements to the 2021 update of Autodesk Inventor. Inventor is an intuitive program that aids with product design, automation, simulation, collaboration, and more.
11:00 AM: Linking New Technology to Old: Driving a Pendulum Clock Through GPS
Join Bill Ockert as he discusses a recent project of his involving a wooden gear electronic impulse pendulum clock. The focus of the talk would include a history of pendulum-based gear clocks, his process for integrating new technology, and a results analysis.
1:00 PM: FEA Overview and Best Practices
Join Applied engineer, Alex Sinclair, in an exclusive Applied Day FEA webinar. This webinar will cover a brief theoretical and general background on structural FEA. It will also explore each step of the finite element process.
Please contact Applied Engineering with any questions!