Join us Wednesday, May 13th and Thursday, May 14th, 2020 for Applied Day!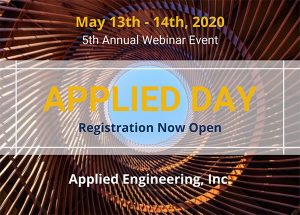 Applied Day is a great opportunity to attend free webinars hosted by Applied specialists covering a wide variety of topics. Whether you need a refresher course on Autodesk software, or you are looking to increase manufacturing efficiency, Applied Day has the webinar for you.
May 13th, 2020
9:00 AM: Automating Engineering Designs with iLogic
Join Applied application specialist, Jerry Oye, as he covers automation within Autodesk Inventor iLogic. iLogic enable rules-driven design that allows you to standardize and automate design processes.
Topics that will be covered include:
1. Adding parameters to be used in rules
2. Create multi-value parameters
3. Modify parameters
4. Create rules based off of parameters
5. Construct conditional statements
6. Activate and deactivate features
7. Replace out components using iLogic snippets
10:00 AM: What's New Vault 2021
Join Applied engineer, Eric Miller, as he covers key enhancements available in the 2021 update of Autodesk Vault.
Vault 2021 offers some exciting new enhancements to boost user productivity. This webinar will cover each of the changes during the webcast at this year's Applied Day, including a smart duplicate search integrated with Inventor, a new property for identifying unused files, and a couple new features added to the Copy Design function. If you are currently using an older version of Vault, or you are interested in implementing Vault to improve data management at your company, you won't want to miss this event.
11:00 AM: Moving to a Containerized Environment
Join Applied application developer, Justin Kalvoda, as he discusses moving to a containerized environment for applications and development. With the rise in use of microservices and movement away from monolithic architectures, containers have become a powerful tool to utilize. Jumping into your first container can be a confusing and challenging experience. In this presentation I will be giving an overview of the technology and how a business can benefit from using it not for just production environments but by making development a much more streamlined process. Allowing your developers to jump into development rather than spending time setting up their environments.
Some of the topics being covered:
1. Anatomy of a Container
2. Interacting with your containers
3. Creating a new app for Docker
4. Migrating Existing applications to Docker
5. Container Orchestration
1:00 PM: Using the Scientific Method for Manufacturing Analysis – Techniques and Tools
Join Applied Professional Services Director, Steve Thompson, for this unique Applied Day presentation. The Scientific Method is a proven process for establishing data for decision making. Applying this methodology to Manufacturing Analysis can create actionable data without disrupting the production line. This is possible due the improvement in technology/software in recent years. The methodology and technology partner for creating actionable data for clarity on business investment.
May 14th, 2020
9:00 AM: AutoCAD Electrical 2021
Join Applied Engineer, Natalie Schroeder, as she covers updates available in the 2021 version of AutoCAD Electrical. During this webinar, she will go through tips and tricks for using the software along with new and improved features within AutoCAD with complement work in AutoCAD Electrical.
10:00 AM: What's New Inventor 2021
Join Applied application specialist, Jerry Oye, as he covers key enhancements to the 2021 update of Autodesk Inventor. Inventor is an intuitive program that aids with product design, automation, simulation, collaboration, and more.
Topics that will be covered:
1. Inventor AnyCAD for Revit
2. Drawing automation
3. Frame Generator enhancements
4. Part modeling improvements
5. Drawing creation improvements
6. Inventor experience
1:00 PM: FEA Overview and Best Practices
Join Applied engineer, Alex Sinclair, in an exclusive Applied Day FEA webinar. This webinar will cover a brief theoretical and general background on structural FEA. It will also explore each step of the finite element process.
Please contact Applied Engineering with any questions!