CadMouse Pro Wireless –The Precision Ergonomic Mouse for CAD Professionals

CadMouse Pro Wireless was purpose-built for supremely comfortable use over long CAD sessions. Offering 3Dconnexion's exceptional precision technology in a full-size body, CadMouse Pro Wireless is the mainstay of any modern CAD toolkit.
Superior Ergonomics
Designed with an angled shape for a more natural hand posture and an incurvated thumb rest, gripping the body of CadMouse Pro Wireless feels completely organic. CadMouse Pro Wireless comes with a middle mouse button for application functions CAD professionals utilize every day. This provides a more comfortable, precise click requiring less force than scroll wheel clicks on traditional mice. Almost 60g less force on average. Together, these features create an experience that greatly reduces the muscle and tendon discomfort frequently encountered during long CAD sessions.
Durability to Last
The average CAD expert clicks many thousands of times during a standard eight-hour workday. CadMouse Pro Wireless is designed to handle over 50 million clicks to its main buttons, giving users mechanical longevity a CAD professional should expect from a premium CAD product. The polytetrafluoroethylene (PTFE) feet are low friction and wear resistant, meaning CadMouse Pro Wireless will maintain smooth, precision movements long after the average mouse. 3Dconnexion supports CadMouse Pro Wireless with a 3-year warranty. This, combined with its built-to-last design, means CAD professionals will experience high-quality use of CadMouse Pro Wireless for many years.
Flexible Connectivity
Either via Bluetooth® Low Energy, the 3Dconnexion Universal Receiver, or USB cable, CadMouse Pro Wireless offers triple connectivity. It's rechargeable lithium polymer battery provides up to three months of wireless use between charges*, meaning heavy CAD users will spend more time working, and less time worrying about whether they need to check battery life.
*Battery life based on 8 hours per day, 5 days per week use.
High Precision, With or Without a Cable
CadMouse Pro Wireless gives users the promise of zero smoothing, acceleration or filtering for precision results on every project. A high-resolution sensor and an adaptive polling rate up to 1,000Hzcreate the ideal mouse for the CAD professional's daily working needs.
Simple Navigation, Easy Access to Applications
CAD users zoom in and out of models and drawings many times daily. The QuickZoom feature of CadMouse Pro Wireless makes this process simple. Press the thumb buttons to zoom in and out of the cursor's position; fine-tune the zoom level by continuing to keep the corresponding button pressed.
An improved Smart Mouse Wheel 2 gives users precise click-to-click zooming in CAD applications and adjustable smart scrolling speed with inertia in documents and browsers, ideal for interacting with many-paged documents. This allows the user to find specific pages quickly and with ease.
Directly behind the Smart Scroll Wheel, the Gesture Button opens an application or environment-specific radial menu, giving users access to their favorite commands with a simple mouse gesture. 3DxWare 10 software allows for custom radial menus specific to user needs.
Carry Case Included
Changing locations is common with the modern CAD workstation and thus, the need to protect mobile devices on the go. 3Dconnexion includes a compact, lightweight, semi-rigid carry case to transport CadMouse Pro Wireless easily and safely.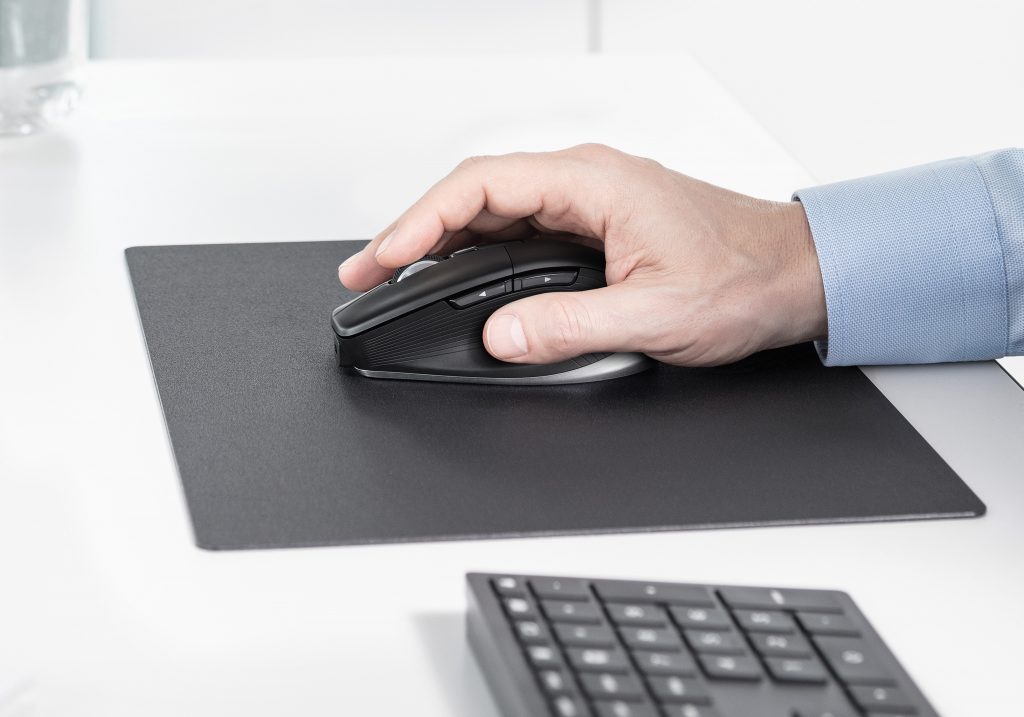 Features and Functions
7 buttons (including dedicated middle mouse button, 5 programmable buttons)
Ergonomic shape for comfortable CAD sessions
Triple connectivity: Wireless with Universal Receiver, Bluetooth or cabled
High resolution, energy saving optical sensor
Rechargeable battery lasting up to three months between charges
Specially developed PTFE feet
Customizable radial menu
Smart Mouse Wheel 2
QuickZoom
Technical Specifications
High-resolution optical sensor with 7,200 DPI
Rechargeable lithium polymer battery with 1100 mAh
3Dconnexion® 2.4GHz wireless technology
Bluetooth® Low Energy
Adaptive polling rates with 90Hz (Bluetooth), 125Hz (Universal Receiver) and 1,000Hz (cabled)
Dimensions (LxWxH): 126 mm x 74 mm x 44 mm / 5.0" x 2.9" x 1.7"
Weight: 140 g / 0.31 lb. / 4,94 oz
Supported Operating Systems
Microsoft Windows 10, Microsoft Windows 8.1, Microsoft Windows 7
Mac OS 10.10 or greater
Warranty
3-years limited hardware warranty
Contact us for pricing and more information.