Available from February 7, to April 21, 2017
Existing customers with R14-2016 perpetual licenses and/or 2017 perpetual licenses not on maintenance plans can save up to 30% off the SRP of select 3-year subscriptions by trading in a qualifying perpetual serial number and all associated seats.
Trade in and trade up
Now is the best time to enjoy savings and subscribe to the products you really need. Trade in your old licenses and trade up to the newest versions. Lock in your price for 3 years when you get current today!
Savings Examples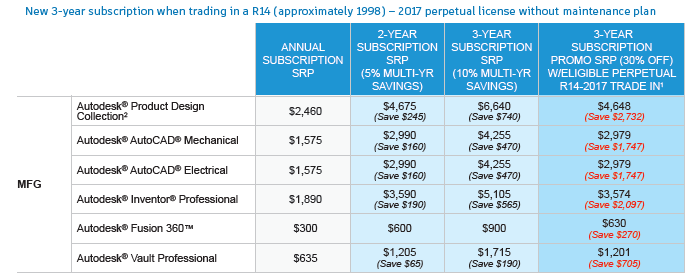 Top questions from customers moving from perpetual licenses to subscription
What if I do not want to update immediately when updates are available?
Customers who subscribe get access to the most up-to-date Autodesk design and creation tools as they are released. They have control over when they update. Additionally, customers who subscribe get Previous Version Rights access to select previous versions of the software they subscribe to (where available).
I plan my budget long term – what are my options? What about subscriptions for teams?
With single-user or multi-user options for all quarterly, annual and multi-year term subscriptions, there are many options to help make managing software budgets easier. Additionally, the trade-in promotion makes it possible to lock in the pricing for three full years.
What if I have trouble using software subscription?
Subscribers have access to a range of Technical Support options to minimize delays and downtime.
I work from home, the office, and on the road and need my software in all three places. What can I do?
An advantage of subscribing is that customers have Home Use and Global Travel Rights — allowing use of the software virtually anywhere, any time.
What else do I get with my subscription that I don't get with my perpetual license?
In addition to the benefits described above, subscribers also have access to collaboration tools, secure storage, faster rendering and visualization capabilities. They also have access to Administrative Tools, like contract reports, usage reports and more help you keep track of your benefits.
I am not always connected to the internet. Will I lose access to my software?
No! An internet connection is needed to activate software when using a new subscription for the first time. It is then possible to work offline for up to 30 days, at which point it will be necessary to connect to the internet to keep using the software.
Download a PDF for the list of eligible "going to" subscription products and the list of eligible "coming from" subscription products.
Contact Us if you have any questions or would like to talk to someone on how much you will save.