There's an AutoCAD product designed for the way you work –
and it's more affordable than before.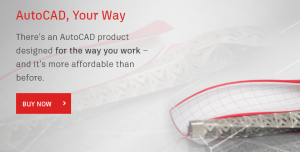 Did you know you can get AutoCAD® software for only US $117/month*?
Autodesk has a range of CAD software that include the core functionality of AutoCAD 2017 with features designed for specific professional purposes.
Why subscribe?
In addition to getting better value, easier access, and improved flexibility, your subscription also gives you**:
● Flexible Usage (Home Use, Global Travel, and Previous Version rights)
● Cloud Services
● Administrative Tools
● Multi-year Options
● Single and Multi-user Options
Looking for LT products?
Get your choice for only $30/month***:
● AutoCAD LT
● Revit LT***
● Inventor LT***
Limited time pricing for Revit LT and
Inventor LT ends Jan. 20, 2017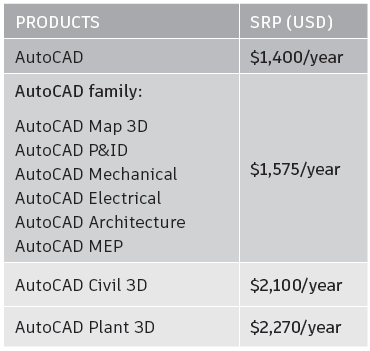 Find the AutoCAD that's right for you!
AutoCAD
Create 3D designs in a more streamlined, collaborative environment with new, more robust CAD tools.
AutoCAD Map 3D
Provides broad access to CAD and GIS data to support planning, design, and data management.
AutoCAD P&ID
Enables quick creation and editing of P&IDs with in-context editing tools.
AutoCAD Mechanical
Design and drafting software with libraries of standards-based parts and tools.
AutoCAD Electrical
Design software purpose-built to create and modify electrical control systems.
AutoCAD Architecture
Design and document more efficiently with software created for architects.
AutoCAD MEP
Makes it possible to draft, design, and document building systems more accurately and efficiently.
AutoCAD Civil 3D
Supports Building Information Modeling (BIM) workflows through 3D design and documentation.
AutoCAD Plant 3D
Enables piping designers to more quickly lay out steel structures, model equipment, and route piping design.
For More Information Download the PDF or If you have any questions Contact Us Today.
*Suggested retail price, monthly amount calculated based on an annual subscription, $US, excluding taxes.
**All subscription benefits may not be available for all products or services in all languages and/or geographies. Subscription programs are subject to the applicable Autodesk subscription terms and conditions and/or Autodesk Terms of Service.
***This promotion offers 1-year subscriptions of Revit LT and Inventor LT for the suggested retail price of US $360, monthly amount calculated based on an annual subscription, $US; reflecting discounts of 12% on Revit LT 2017 and 5% on Inventor LT 2017, excluding taxes. Offer available from November 7, 2016 through January 20, 2017 in the United States and Canada.Available from participating resellers and Autodesk Stores only. Reseller prices may vary.