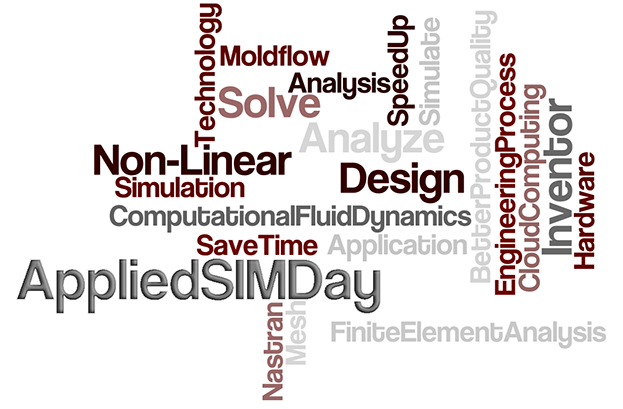 Join us for Applied Simulation Day. We have an exciting event scheduled that will show how you can quickly and accurately simulate and analyze your designs throughout the engineering process to achieve better product quality. The latest tools by Autodesk for Finite Element Analysis, Plastic Injection Molding and Computational Fluid Dynamics will be shown and discussed. Attend one or all of the events on October 26th at no charge.
Session 1: Inventor Simulation 9 AM – 10 AM
Autodesk Inventor Simulation provides tools to simulate and analyze the dynamic characteristics of an assembly in motion under various load conditions. You can also export load conditions at any motion state to Stress Analysis in Autodesk Inventor Simulation to see how parts respond from a structural point of view to dynamic loads at any point in the range of motion of the assembly. Large and complex moving assemblies coupled with hundreds of articulated moving parts can be simulated can help you conduct advanced FEA studies of your product and evaluate design decisions as you make them.
Topics Covered:
Decipher Linear vs. Non-linear Requirements
Important Tasks Prior to Analysis
Preparing a Model for Analysis
Following the Appropriate Analysis Workflow
Register Now for Session 1
Session 2: Nastran In-CAD 10 AM – 11 AM
Autodesk Nastran In-CAD, a general purpose finite element analysis (FEA) embedded in your CAD system, is powered by the Autodesk Nastran solver and offers a wide-range of simulation spanning across multiple analysis types such as linear and nonlinear stress, dynamics, and heat transfer. This single product is available as a network license and serves multiple CAD platforms such as Autodesk Inventor – providing a consistent user experience and eliminating the need for multiple single-platform simulation technologies. Autodesk Nastran In-CAD delivers high-end simulation technology in a value-enhanced, CAD-embedded workflow so engineers and analysts can make great products.
Topics Covered:
Linear Statics – Dynamic Loading
Frequency Response
Non-Linear Statics and Dynamics
**With a focus on making design changes inside of CAD based off simulation results to showcase design process efficiency
Register Now for Session 2
Session 3:  CFD and Mechanical Simulation 11 AM – 12 PM
Autodesk CFD software provides fast, accurate, and flexible fluid flow and thermal simulation tools to help you make better design decisions earlier in the product development process. Simulation CFD enables you to make great products by easily exploring and comparing design alternatives using an innovative Design Study Environment and automation tools.
Topics Covered:
Electronics Cooling
Heat Transfer Autodesk
Simulation Mechanical software, powered by Autodesk Nastran, accurately predicts product performance, optimizes designs, and validates product behavior before manufacturing. Simulation Mechanical brings Finite Element Analysis to all designers, engineers and analysts to help make great products.
Topics Covered:
Thermal Stresses (import temps from CFD to SM to showcase CFD/SM connectivity)
MES (Mechanical Event Simulation)
**Main topic for session 2 is to showcase tools to provide engineers with informed electronics temperature information
Register Now for Session 3
View Applied's Calendar for all Upcoming Webinars or Training Classes.
Contact Us if you have any questions.