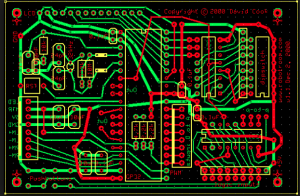 CadSoft, makers of EAGLE PCB Design, has announced that it has been acquired by CAD software giant Autodesk.
Over the past 30 years, EAGLE has become a standard for printed circuit board (PCB) designers working anywhere from hackerspaces to engineering firms. One of the biggest factors driving EAGLE's popularity is the fact that the software comes with a free, but limited, license, making it easy for students and hobbyists to learn PCB design and integrate custom circuits into their products. Another reason for EAGLE's sustained popularity has been the company's willingness to embrace the open-source hardware community.
Since its pivot to the "Future of Making Things" mantra, Autodesk has put a lot of emphasis on the fact that it understands that there's an expanding group of people who want to make things with CAD. Today, CAD isn't just a tool for professional engineers, it's a tool for hobbyists, artists and at-home inventors. But aside from just talking the talk, Autodesk has also been releasing software like Fusion, which I've always regarded as the perfect vehicle for capturing users. First off, Fusion looks and feels like a fun tool for design. Furthermore, it works on both PCs and Macs. And to top it off, it can be run on a fairly dainty laptop, making it a great tool for designers on the go.
While Fusion is still in its infancy, Autodesk has said that it has plans to expand the platform to include Internet of Things integration, generative design tools and much more. Adding those type of tools, and a possible PCB design platform, to a software that already supports modelling, rendering and CAM seems like Autodesk is inching ever towards a complete end-to-end design solution.
Autodesk appears to be building an idea around its products, and that idea seems more inclusive and ready to embrace the way people interact with software and design in the 21st century.
Feel Free to Contact Us if you have any questions.