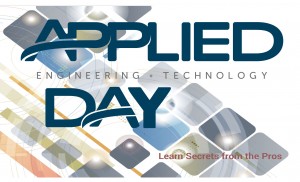 You are invited to attend Applied Day, a series of educational webinars hosted by Applied Engineering. It's a great opportunity to learn about how Applied Engineering can help you improve your engineering, data management and manufacturing processes.
March 8, 2016
You can register now for individual sessions or all 5 sessions.
9:00am – Leveraging CAD Data for Manufacturing and Engineering
In today's manufacturing organization, 3D Computer-Aided Design has become the basis of all stages of product development: from initial design, to creating assembly instructions, to programming the machines that will be used to create the physical product, and more. Effective sharing of CAD data throughout the manufacturing organization is essential to producing high-quality products on time and on budget.
This session will focus on how you can leverage CAD data throughout your organization, including Engineering BOMs to Manufacturing BOMs, CAD Data for manufacturing processes and fixtures, the digitization of the manufacturing floor, and communicating engineering data with your MRP or ERP systems.
10:00am – Overcoming Design Engineering Challenges
During this session, Engineering Services consultants will share their advice on technologies, processes and techniques for overcoming common design engineering challenges that affect modern manufacturing companies.
11:00pm – The Future of Making Things (Automation and generative design)
We'll take a look at how design & engineering personnel have begun to make a shift towards newer technologies. Some of these technologies focus on collaboration with other groups within an organization while some will actually help you to conceptualize and design. The two technologies we'll focus on are both a cloud based configurator and Autodesk Inventor Shape Generator.
2:00pm – Improve Processes with System Integration
This session on Application Development will focus on how Applied's software development team meets the software challenges of our clients. We will share how we design and deliver systems to fit our client's goals, requirements and team environment.
3:00pm – Improve Data and Process Management throughout Engineering
This webinar will focus on technologies that are available for searching, saving, and reusing data throughout engineering. This session will also include a discussion on revision control, lifecycle management, managing data across multiple site locations, access for Non-CAD Users, and more.
Each session will be approximately 40 mins with an additional 10 minutes for Q&A.
All times listed are Central Time.
To Reserve Your Spot…Register Now or Contact Us if you have any questions.