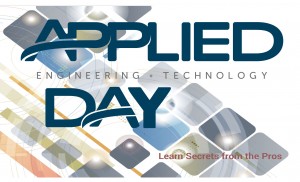 On March 8th Applied is hosting a full day of exclusive webinars. It will be educational and free. Learn about various topics from Applied's experienced staff. Join us for one or all of the sessions. It is your choice but just don't miss out.
Session 1. Leveraging CAD Data for Manufacturing and Engineering
Session 2. Best Techniques for Design Engineering
Session 3. The Future of Making Things (Automation and generative design)
Session 4. Improve Processes with System Integration
Session 5. Improve Data and Process Management throughout Engineering
Each session will be approximately 40 mins with a 10 min Q&A
More Details to Come.
To Reserve Your Spot…Register Now or Contact Us if you have any questions.