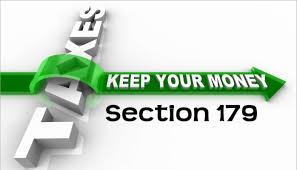 Section 179 of the IRS tax code allows businesses to deduct the full purchase price of qualifying equipment and/or software purchased or financed during the tax year. That means that if you buy (or lease) a piece of qualifying equipment, you can deduct the FULL PURCHASE PRICE from your gross income. It's an incentive created by the U.S. government to encourage businesses to buy equipment and invest in themselves.
2015 Deduction Limit = $25,000
This deduction is good on new and used equipment, as well as off-the-shelf software. This limit is only good for 2015, and the equipment must be financed/purchased and put into service by the end of the day, 12/31/2015.
For basic eligibility, software must meet all the following general specifications:
– The software must be financed or purchased outright.
– The software must be used in your business or income-producing activity.
– The software must have a determinable useful life.
– The software must be expected to last more than one year.
This means that you can buy (or finance) Autodesk and deduct the Full Purchase Price (up to $25,000) from your gross income.
What Does This Mean for You?
If you buy or finance Autodesk software, you can deduct the Full Amount of the Equipment (up to $25,000) without paying the full amount this year.
In fact, the amount you save in taxes could be greater than what you pay for the software.
If you are thinking of purchasing Autodesk, now is the time to take advantage of the tax benefits and our YEAR-END PROMO!
Calculate your 2015 Section 179 Tax Deduction…
Download the Free Section 179 Guide Now…
Contact Us TODAY to talk more about Purchasing Autodesk before the end of the Year