SpaceNavigator from 3DConnexion
SpaceNavigator is the 3D mouse that lets everyone explore the freedom of intuitive, precise 3D navigation in over 100 3D applications. Simply push, pull, twist or tilt the 3Dconnexion Cap to simultaneously pan, zoom and rotate. It's like holding the 3D model or camera in your hand.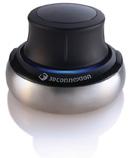 SpaceNavigator Specifications
The SpaceNavigator is compatible with:
Windows® XP and 2000
Windows® Vista
Apple OS X (10.4.6 or later)
Linux
The SpaceNavigator comes with a 2-year limited warranty and the device comes with phone, e-mail and web support.
**SpaceNavigator is available for Notebooks. SpaceNavigator for Notebooks is the portable 3D mouse that brings intuitive, precise 3D navigation to mobile users. At two thirds the size and half the weight of its desktop counterpart, plus the included travel case make it the perfect travel companion for 3D designers and enthusiasts.
SpaceNavigator Pricing
The SpaceNavigator or SpaceNavigator for Notebook is $109. If you're considering buying multiple devices, contact us for more information about volume discounts.
View all of the products here.