Sessions Announced for Applied Day 2022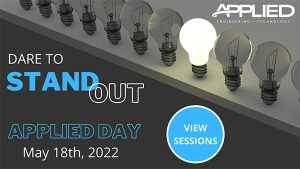 What is Applied Day?
Applied Day is a one-day live webinar event hosted by Applied experts on a variety of engineering, manufacturing, and software development topics. This year, Applied Day will take place on Wednesday, May 18th. 
Autodesk Manufacturing Software Solutions
10:00 AM Central Time
Get to know NexGen Solutions, a top services partner representing all Autodesk Manufacturing Solutions.  Work with a company that has been repeatedly recognized for their customer service, winning the Autodesk Platinum Top Service Delivery for all the Americas in 2022.
This short session will review the wide variety of solutions available, and the services to ensure you achieve success.
3D Printing Applications for Engineering & Architecture
11:00 AM Central Time
Join Print & Image Operations Director, Paul Bartron, and Professional Services Director, Steve Thompson, as they discuss what 3D printing is, types of 3D printing, and how it can be applied in the fields of engineering and architecture.
Advanced Analysis & Engineering Simulation
1:00 PM Central Time
Join Simulation and Mechanical Design Engineer, Alex Sinclair, as he discusses the advanced analysis and simulation capabilities of the Applied Advanced Analysis Team. Engineering simulation can provide invaluable insight into how products perform – or don't! This webinar will highlight the many ways our team can detect premature product failure, decrease prototype costs, and lead design efforts based on realistic usage constraints and performance data. A wide variety of simulation types will be covered including static, dynamic, vibration, fatigue, internal/external flow, manufacturing processes, thermal, and multiphysics analysis.
What's New in Application Development
2:00 PM Central Time
Join Applications Developer and Software Development Team Lead, Tycho Kalvoda, as he takes a look at some of the recent technologies and how Applied Engineering's software Development team uses them to build better applications, faster.
Registration will open on April 25th, 2022