Applied Named One of 50 Best Places to Work

Applied is proud to announce that we have been named one of Prairie Business Magazine's 50 Best Places to Work for our seventh year! Over 1,500 companies were nominated, with employees citing workplace culture, opportunities for employee growth, teamwork and individual responsibility, employee morale, and more as reasons why their company should be included as one of the 50 best.
Prairie Business Editor, Andrew Weeks, said of the large nomination pool: "It's a sampling that shows people are excited about their jobs and the companies that provide them. That's good news not only for the businesses that have been nominated, but it's great news for all of the region's residents, consumers and managers alike."
Thank you to those that nominated Applied this year, and to every one of our team members that make Applied what it is! 
Read the full issue here
Improve Product Performance with FEA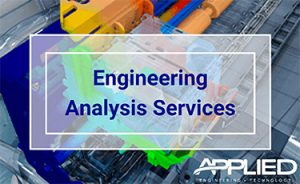 Applied has a highly knowledgeable analysis team experienced in multiple facets of structural and computational dynamics, allowing you to take your understanding of your mechanical designs to a whole new level.
To learn more about Applied's analysis services, click here.
Applied Advanced Engineering & Analysis
Watch as Simulation and Mechanical Design Engineer, Alex Sinclair, discusses the advanced engineering and analysis capabilities of the Applied Engineering Advanced Analysis Team. Simulation and analysis can provide invaluable product insight and thus be of tremendous value to a wide variety of applications. Advanced analysis techniques can detect premature failure, reduce design cycle times, and decrease prototype costs, just to name a few. Several simulation types will be highlighted, ranging from static to complex dynamic, fluid flow, and thermal analysis.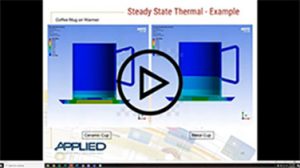 Employee Spotlight: Todd Settergren
Meet Todd, an Applied Mechanical Design and Simulation Engineer. Todd has been with Applied for over 10 years and is based out of Fargo, ND.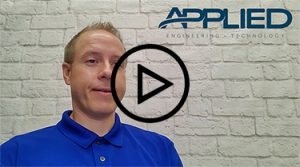 Project Spotlight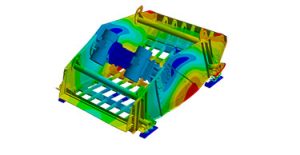 The Challenge
Accurately predicting the harmonics (natural frequencies) for large vibratory aggregate processing equipment.
Background
Applied had a customer who was working on the design of some new vibratory screening equipment. The customer has had some issues with previous prototypes in which the drive frequencies occurred too close to the natural frequencies of the structure. This can cause resonance and can destroy the screen in a matter of minutes. They needed a fast and effective way of predicting the natural frequencies of this equipment without having to build and test prototypes.
What Did We Do?
Applied used its expertise in the application of engineering simulation to "virtually test" or simulate the harmonics of the prototype products. High end simulation software called "ANSYS" was utilized for the project. 
The Outcome
Applied successfully worked with the customer to develop a strategy and complete virtual testing of customer prototype designs in a fast and cost-effective manner. Results were verified with customer test data. Applied also contributed to training efforts which led to the customers eventual capability to implement the virtual testing into their "in house" design process. 
Contact Applied Engineering to start your next analysis project today!
Upcoming Training Courses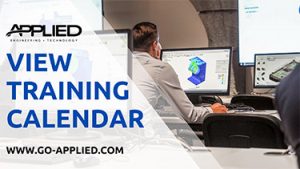 Factory Design Essentials
September 21st, 2021
In the Factory Design course you will learn how to integrate AutoCAD, Inventor, Navisworks, and Showcase to create and optimize layouts, build digital 3D models of factories based on those layouts, and utilize the digital models to create visualization tools. After the course you will have the knowledge necessary to improve efficiency, accuracy, and communication when design factories.
Topics Covered:
Setting Up the Inventor Environment
Setting Up the AutoCAD Architecture Environment
Integrating the Site Drawing as Reference
Creating the Column Grid and Building Column
Creating the Wall and Roof Construction
Creating Aisles
Installing Gates, Doors and Windows
Constructing a Steel Mezzanine
Material Flow
More!
AutoCAD Electrical Fundamentals
October 26th, 2021
The AutoCAD® Electrical Fundamentals course covers the indispensable core topics for working with the AutoCAD® Electrical software. In this student guide, students learn how to use many of the powerful electrical drawing creation tools in the AutoCAD Electrical software. Students create schematic drawings (ladder logic and point to point), panel drawings, and PLC-I/O circuits using automated commands for symbol insertion, component tagging, wire numbering, and drawing modification. In addition, students are introduced to methods of customizing AutoCAD Electrical symbols, circuits, and databases. Other topics covered include titleblock linking, reporting tools, templates, and project files.
Topics Covered:
Understanding project files.
Creating and editing schematic and panel drawings.
Working with PLC symbols.
Creating custom symbols.
Generating reports.
Inventor Simulation
November 1st, 2021
The Autodesk® Inventor® Simulation training course gives an overview of Stress Analysis functions within Inventor as well as the Dynamic Simulation interface.  These are the built in tools, not related to the Inventor Nastran Add-In.  This course covers a wide range of features & core concepts within each tool, providing a well-rounded foundation for anyone looking to perform linear stress or range of motion analyses.  Each design problem illustrates a unique approach and demonstrates key aspects of the software, making it easier for users to understand how to handle real world problems. 
Topics covered:
Assembly Optimization
Bolted Connections
Weldment Analysis
Wind Load Analysis
Motion Load Transfer Analysis
Multiple Motion Load Transfer
Modal Analysis
Frame Analysis Environment
Inventor Nastran Essentials
November 3rd, 2021
Autodesk® Inventor Nastran is a finite element analysis (FEA) tool that is embedded directly in the Autodesk® Inventor® software as an Add-In. It is powered by the Autodesk Nastran solver and offers simulation capabilities specifically tailored for designers and analysts as a tool for predicting the physical behavior of parts or assemblies under various boundary conditions. Through a hands-on, practice-intensive curriculum, students acquire the knowledge required to work in the Autodesk Inventor Nastran environment to setup and conduct FEA analyzes on part and assembly models.
Topics Covered:
Activate and navigate the Autodesk Inventor Nastran environment to conduct FEA analyzes.
Create, edit, and assign idealizations and materials (linear, nonlinear, and composites).
Manage the creation, setup, and modification of analyses and subcases that are used to analyze both static and dynamic models. Specific analyses types that are covered in this learning guide include: Linear Static, Nonlinear Static, Nonlinear Transient Response, Normal – Modes, Direct Frequency Response, Modal Frequency Response, Direct Transient Response, Modal Transient Response, Random Response and Shock/Response Spectrum.
Create constraints with the required degrees of freedom and assign them to entities.
Create loads that accurately represent the magnitude and location of the loads the model will experience in the working environment.
Create Connector elements to simulate how a physical connector such as a rod, cable, spring, rigid body, or bolt will affect the model.
Create Surface Contact elements to define contact between interacting components.
Assign global and local mesh settings.
Run an Autodesk Inventor Nastran analysis.
Review and create result plots for analyzing the results.
Webinar Rewind

Validate Designs with Inventor Nastran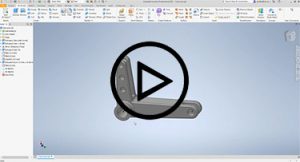 Inventor Nastran® delivers finite element analysis (FEA) tools for engineers and analysts. Simulation covers multiple analysis types, such as linear and nonlinear stress, dynamics, and heat transfer.
In this webinar you will learn how to:
Prepare a Model for FEA
Customize Mesh
Make Sure Results Are Converging

View Newsletter Archive