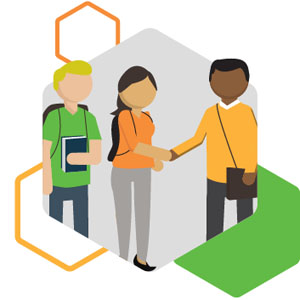 Are you thinking about a career in engineering? Lay the foundation to your career now, while you're still in school. It's never too soon to start planning for your career, and Applied Engineering offers an internship program that give you valuable hands-on experience before you even graduate from college.
Internship Program
What exactly is an internship? An internship is a temporary work-related learning experience for individuals who wish to receive hands-on experience in a specific field. It's an experience that enhances the knowledge you gained in the classroom, while providing you with a competitive edge when you enter the workforce. Not only does it give you real world experience, it looks great on a résumé. You'll work with talented professionals in the industry who can offer references, career advice, and information about upcoming job opportunities, and you'll have the opportunity to learn firsthand about our organization, work style, and corporate culture.
We offer internships in a variety of career paths:
Engineering – Agricultural, electrical, industrial, manufacturing and mechanical
IT – Software development, programming, design and system administration
Administrative – Accounting, human resources and recruiting
Let us help you find your fit. Send us your resume or contact a recruiter today.
Take the first steps in building your career