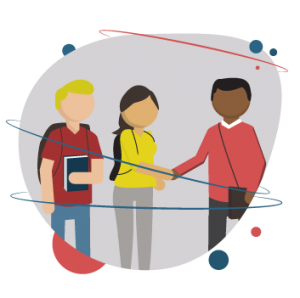 Are you thinking about a career in engineering? Lay the foundation to your career now, while you're still in school. It's never too soon to start planning for your career, and Applied Engineering offers two programs that give you valuable hands-on experience before you even graduate from high school or college.
Whether you're a student seeking a job shadowing experience or an internship, you've come to the right place. Want to join a fast-paced engineering and technology firm? Applied Engineering is for you. You'll find challenging opportunities to learn and develop new skills to help propel your career and get you started on the right foot. Check out a few of our career launching programs to find out if one fits you.
Job Shadowing Program
So, what is job shadowing? It's is an opportunity for students to connect or "shadow" a business professional who has specific knowledge about an occupation or career you're interested in. At Applied Engineering you'll observe responsibilities and tasks associated with the careers that drive you and have the opportunity to ask questions about the knowledge, skills, talent and level of education required for the job. While the purpose of this program is to gather career related information and expand your networking contacts, it also allows you to be in a real learning situation. You'll learn the trends of your field of interest and see workforce technologies in action.
At Applied Engineering, we offer a variety of career paths that can be explored through a unique job shadow experience. Here are a few examples of the types of work you can get your hands on:
Engineers – Agricultural, electrical, industrial/manufacturing and mechanical
IT professionals – Software developers and programmers, designers and system administrators
Sales and technical professionals – Technical sales consultants, inside sales specialists, applications specialists and training coordinators
Administrative professionals – Accounting and human resources professionals
Internship Program
What exactly is an internship? An internship is a temporary work-related learning experience for individuals who wish to receive hands-on experience in a specific field. It's an experience that enhances the knowledge you gained in the classroom, while providing you with a competitive edge when you enter the workforce. And not only does it also give you real time experience, it looks great on a résumé. You'll gain exposure and experiences that will help you develop and challenge your new skills and education. You'll work with talented professionals in the industry who can offer references, career advice and information about upcoming job opportunities, and you'll have the opportunity to learn firsthand about our organization, work style and corporate culture.
At Applied Engineering, internship opportunities are available in a variety of career paths within the following professions:
Engineering – Agricultural, electrical, industrial, manufacturing and mechanical
IT – Software development, programming, design and system administration
Administrative – Accounting, marketing, human resources and recruiting
Let us help you find your fit. Send us your resume or contact a recruiter today.