Streamline Manufacturing Processes with Applied Engineering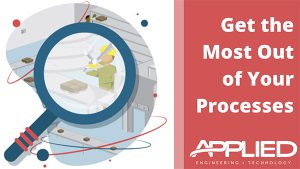 Let Applied Engineering help you streamline your manufacturing processes so you can operate at your full potential. We specialize in plant optimization and factory layout, allowing your facility to work better for your specific needs. We can assist with industrial automation, tooling and fixture design and build, and even process design.
Take the first step toward more efficient workflows. Contact our Professional Services team today.
Applied Day is Right Around the Corner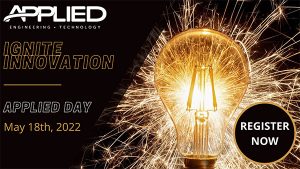 Applied Day is less than two weeks away! You won't want to miss this opportunity to hear from the experts on 3D printing applications, FEA, software development, and manufacturing software solutions.
Click here to view the full schedule and register today!
Join Our Team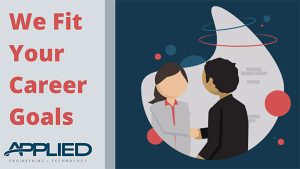 Why work for Applied Engineering? As a fast-paced technology company, we offer opportunities to learn and develop new skills, gain and apply knowledge, and take on leadership roles. Our dynamic environment offers diverse projects like product design, factory automation, web programming, web design and more.
Check out these job openings:
Design Engineer – Bismarck, ND
The Design Engineer role is responsible for creating 3D models of parts and assemblies, performing analyses or studies, creating engineering drawings to document customer intellectual property, creating design documentation, assisting with prototype or production builds, preparing cost analysis and project schedules, presenting, or demonstrating designs to customers, and working with suppliers or other Applied partners.

Sales Representative – Fargo, ND
The Sales Representative will involve finding and growing sales contacts, researching customer needs, and developing customer solutions with services in an effective manner. This role will involve meeting established sales activities objectives and revenue goals, participating in sales forecasting and planning, and participation in the development of new services, modification of existing services, and termination of ineffective services. The Sales Representative Applied will also manage assigned sales budgets in a timely and effective manner and may be involved in scheduling projects and coordinating resources.

Embedded Software Engineer – Brooklyn Park, MN
The Embedded Software Engineer will work with project stakeholders to define and analyze system requirements and develop (analyze, design, code, test) custom innovative solutions. This role will also develop and document testing procedures and results, work on a variety of projects that utilize different technologies. The Embedded Software Engineer will work closely with the customer to effectively communicate project status, follow issues through to resolution completion, and provide recommendations for customers based on an understanding of their business needs.