Meet Your Applied Day Presenters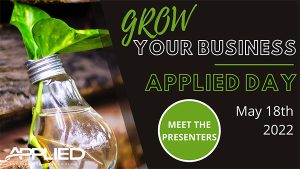 Join us Wednesday, May 18th as we host our 7th annual Applied Day live webinar event. Hear from experts in the following topics:
Autodesk Manufacturing Software Solutions
10:00AM CST


Joy Mooney
Customer Success Specialist, Joy Mooney, has been focused on keeping NexGenSolutions customers on track to meet their business goals since 2021. She has a background in technology and training she uses to drive onboarding, adoption, and implementation of products and solutions. You can contact Joy Mooney at joy@nexgencam.com  

Kirk Huber
Kirk joined the NexGenSolutions team in 2021 as a Customer Success Specialist. Prior to this Kirk spent 5 years as a Purchasing Supervisor for a Coil Spring Manufacturer in Indiana. Kirk's background in manufacturing and understanding of supply chain management has helped him better understand the challenges his customers face.  You can contact Kirk Huber at kirk@nexgencam.com
3D Printing Applications for Engineering and Architecture
11:00AM CST


Paul Bartron
Paul Bartron is the Director of Print and Image services at Applied Engineering. Paul has 14 years of sales experience and customer relations, with a degree in Business Management. He also has some time spent in the Fargo Air National Guard.  As the Director of the Print and Image Services, formally known as the Reprographics Department. Paul has continued to provide printing services to a department that's been around for 30 years.  His department primarily handles printing services for Architectural Firms and General Contracting. They also provide services for signage, marketing materials, and they now offer 3D printing services. 

Steve Thompson
Steve Thompson has a diverse background in product development and manufacturing. Steve's twenty+ years of engineering experience includes design, manufacturing, and testing. His experience includes plastic and metal components for multiple industries including construction, agriculture, off-highway, office equipment and packaging. Currently, Steve serves as the Professional Services Director for Applied Engineering.
Advanced Analysis & Engineering Simulation
1:00PM CST


Alex Sinclair
Alexander, a Design/Simulation Engineer, has been with Applied since 2017 and has a Masters of Science in Mechanical Engineering. He enjoys serving customers in a wide variety of roles including: project management, design, structural/dynamic analysis, and custom prototyping. He has experience providing the aforementioned services on products including: loaders, excavators, UTV's, lifting equipment, 4WD tractors, consumer goods, robotic platforms, and agricultural implements.
What's New in Application Development
2:00PM CST


Tycho Kalvoda
Tycho graduated from NDSU in 2007 with a bachelor's degree in Computer Science.  Tycho has been with Applied Engineering for 10 years where he has worked on a variety of applications.  He is a full stack developer with a passion for DevOps and keeping up to date with new technologies and how they can benefit Applied's customers.