Applied Has Expanded Into Eastern Wisconsin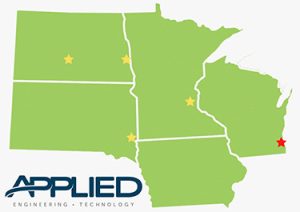 Historically, Applied has primarily done business in Minnesota, North Dakota, and South Dakota. We recently expanded into the Milwaukee area, bringing with us the same high-quality manufacturing engineering and software development services that our current customers have come to know.
Our full-time engineers and IT specialists bring the talent, experience, and technology to turn your ideas into products – offering concept, design, simulation, and production expertise – while we support every facet of the product life cycle. 
If you're in Milwaukee or its surrounding areas, reach out to your local representative:

Frank Phillips
414-469-3017
Big Changes at Applied

Applied Engineering pivots to an entirely services-based model following the acquisition of its Software Sales and Support division by NexGenCAM, LLC.
"This acquisition is an exciting opportunity for us to put more focus on our relationships with our customers and expand not only our engineering and software development capabilities but also the regions in which we do business.", Applied CEO, Dave Raatz, said of the transition.
Read the full press release here.
Work at Applied Engineering
Everyone deserves to be passionate about where they work, and our employees couldn't agree more. Whether you're a recent grad launching a new career or a seasoned professional looking for a better fit, Applied Engineering is where your passion and skills come together.
At Applied Engineering, you'll have opportunities to expand your skill set and work on a variety of projects.  You'll be challenged to be the expert, and we'll provide the training to help you get there.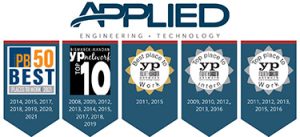 Job Openings
Embedded Systems Engineer – Brooklyn Park, MN
The Embedded Systems Engineer will work with project stakeholders to define and analyze system requirements and develop (analyze, design, code, test) custom innovative solutions. This role will also develop and document testing procedures and results, work on a variety of projects that utilize different technologies. The Embedded Systems Engineer will work closely with the customer to effectively communicate project status, follow issues through to resolution completion, and provide recommendations for customers based on an understanding of their business needs.

Design Engineer – Bismarck, ND
The Design Engineer role is responsible for creating 3D models of parts and assemblies, performing analyses or studies, creating engineering drawings to document customer intellectual property, creating design documentation, assisting with prototype or production builds, preparing cost analysis and project schedules, presenting or demonstrating designs to customers, and working with suppliers or other Applied partners.

Manufacturing Engineer – Gwinner, ND
The Manufacturing Engineer role is responsible for work cell design, tooling design, capital equipment allocation, project planning, Lean implementation, and production support. This is a fast-paced role working with a fun team in a world class manufacturing facility. Manufacturing Engineers receive a variety of experience and exposure to many different applications within a factory environment.

Entry-Level Electrical Engineer – Brooklyn Park, MN
The Electrical Engineer is responsible for designing, developing, testing, and maintaining electrical systems for vehicles; suggest potential improvements to electrical designs to improve cost, quality, and performance; route electrical harnesses in 3D and develop final harness specifications; provide technical support to marketing, manufacturing, quality, and supply management; and manage priorities independently and communicate with the customer frequently through a variety of communication channels.

Browse our full list of job openings here.
Applied Print & Image Services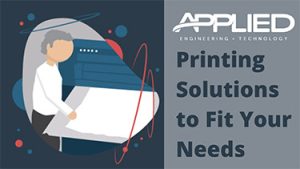 Applied Engineering has the technology and expertise to handle any printing or scanning request. Need a banner, flyers, or posters for an upcoming event? Looking to digitize and organize old documents? Need a 3D scale model for a presentation? Applied has got you covered.
Our Print & Image team specializes in:
Large- and small-format printing
3D printing
Scanning and archiving documents
Binding and laminating
Bid set distribution
And more!
Contact our team today or click here to learn more!

View the newsletter archive