Let Applied Handle Your Simulation Needs
Applied Engineering's talent, technology, and adaptability will help you conquer your analysis challenges.

Simulation
Structural Analysis – Our FEA team specializes in structural analysis of mechanical systems, including complex non-linear materials and effects.
Fluid Dynamics – Our CFD experts will help you analyze complex fluid flows to optimize product behavior before manufacturing.
Failure Analysis – Have a problem in the field? Our analysis team can look at the failure, analyze it and recommend corrective actions.
Knowledge
Your Application – Our Applied analysts will take the time to understand your company and the application thoroughly, ensuring services meet your expectations.
Tools – We know how to get the most out of today's most technologically advanced software.
Industry – We are more than just data crunchers. Our analysts have real-world experience correlating analysis results to physical tests, ensuring reliable results you can trust.
Improve Your Business
Reduce Time To Market – Digital simulation helps you reduce physical prototyping and testing, allowing you to beat your competitors to
Improve Quality – Warranty repairs are costly and negatively affect your Our analysis services can help reduce or eliminate these failures.
Reduce Product Cost – Applied can help you improve your products by eliminating unnecessary material, fasteners and complexity.
Contact our services team to get started today!
Analysis Case Study: Amber Waves
Our customer, Amber Waves, produces a variety of agriculture-related products, including large bin storage hoppers. These bins are built to hold grain or other 'flowable' material with extra heavy steel that is made-to-order and made-to-last. The combination of welded steel and aeration prevent contamination of the stored material.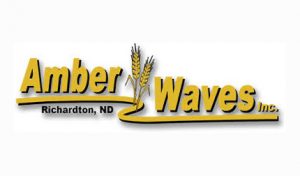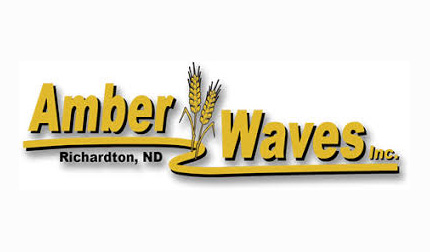 The Challenge
Amber Waves wanted to reduce costly field service repairs and evaluate structural stability because the bin's capacity can exceed 500,000 pounds. Their primary concern was the design. Specifically, where the side walls met with the bottom cone and connected to the rest of the structure. Physical prototypes were too costly because of the short-run nature of each project and the size of each bin.
Our Solution
Applied Engineering went to work and gathered the information to create the digital prototype specifications, storage crop data, and grain loads.
Applied's experienced engineering staff used advanced 3D design and finite element analysis (FEA) software to analyze the proposed design. Static structural analysis was used to verify and optimize the strength of the design to ensure field performance and minimize repairs.
As a result, creation of a digital prototype was less than 10% of the cost to build a physical prototype. Applied gave Amber Waves the assurance that the new design would withstand the unique crop loading conditions in the field as a significant cost reduction.
Applied Engineering is the only firm with the talent and technology to fit your project, your process, and your culture. Contact us to learn more!
Black Friday Training Sale – Buy One Get One Half Off!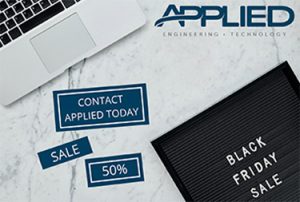 End your year with a BANG by taking advantage of our BUY ONE GET ONE ½ OFF training deal!
From now until November 30th, 2021, when you purchase one Applied training course at full price, receive another course for half the price!
Click here to view our training calendar and pick the course that fits you!
Featured Training Courses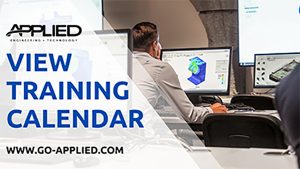 Inventor Advanced Part Modeling
November 29th – 30th, 2021
Autodesk Inventor Advanced Part Modeling is the second in a series of training on the Autodesk Inventor software that is published by ASCENT. The goal of this guide is to build on the skills acquired in the Autodesk Inventor Introduction to Solid Modeling training guide by taking students to a higher level of productivity when designing part models using the Autodesk Inventor software.
In this training guide, the student considers various approaches to part design. Specific advanced part modeling techniques covered include multi-body design, advanced lofts, advanced sweeps, coils, generative shape design, surface modeling, and Freeform modeling. Material aimed at increasing efficiency includes: iFeatures for frequently used design elements, iParts for similar designs, and how to work with imported data. The guide also covers some miscellaneous drawing tools such as custom sketches symbols, working with title blocks and borders, and documenting iParts.
Topics Covered:
Advanced model appearance options
2D and 3D sketching techniques
Multi-body part modeling
Advanced geometry creation tools (work features, area lofts, sweeps, and coils)
Analysis tools
Generative shape design using Shape Generator
Creating and editing basic surfaces, importing surfaces, and surface repair tools
iFeatures and iParts
Importing data from other CAD systems and making edits.
Working with AutoCAD DWG files.
Freeform modeling
Emboss and Decal features
Advanced Drawing tools (iPart tables, surfaces in drawing views, and custom sketched symbols)
Adding notes with the Engineer's Notebook
Inventor Nastran Essentials
December 7th – 8th, 2021
Autodesk® Inventor Nastran is a finite element analysis (FEA) tool that is embedded directly in the Autodesk® Inventor® software as an Add-In. It is powered by the Autodesk Nastran solver and offers simulation capabilities specifically tailored for designers and analysts as a tool for predicting the physical behavior of parts or assemblies under various boundary conditions. Through a hands-on, practice-intensive curriculum, students acquire the knowledge required to work in the Autodesk Inventor Nastran environment to setup and conduct FEA analyzes on part and assembly models.
Topics Covered:
Activate and navigate the Autodesk Inventor Nastran environment to conduct FEA analyzes.
Create, edit, and assign idealizations and materials (linear, nonlinear, and composites).
Create constraints with the required degrees of freedom and assign them to entities.
Create loads that accurately represent the magnitude and location of the loads the model will experience in the working environment.
Create Connector elements to simulate how a physical connector such as a rod, cable, spring, rigid body, or bolt will affect the model.
Create Surface Contact elements to define contact between interacting components.
Assign global and local mesh settings.
Run an Autodesk Inventor Nastran analysis.
Review and create result plots for analyzing the results.
And more!
Improve Product Performance with Autodesk Simulation
Autodesk Simulation software not only helps you avoid costly design mistakes, but it also lets you experience a whole new world of design possibilities, allowing you to create the best possible product.
Ready to optimize your design process? Applied offers comprehensive Autodesk simulation software: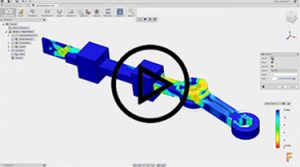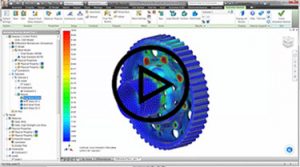 Contact our technology team to find the right software for you and your project.
Employee Spotlight: Joe Gryte
Meet Joe Gryte, Operations Director of Applied's Professional Services team. Joe is based out of Brooklyn Park, MN and has been with Applied for 24 years.
Watch the video below to learn more about Joe!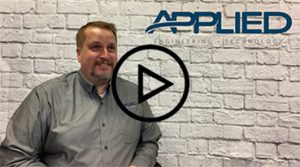 Webinar Rewind

Validate Designs with Inventor Nastran
Inventor Nastran® delivers finite element analysis (FEA) tools for engineers and analysts. Simulation covers multiple analysis types, such as linear and nonlinear stress, dynamics, and heat transfer.
In this webinar you will learn how to:
Prepare a Model for FEA
Customize Mesh
Make Sure Results Are Converging