Top Ten Reasons to Use Applied for Your Next Software Programming Project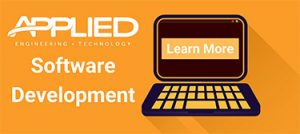 Experience – We have a large staff of software developers that are experienced in integration, web development, or custom software development using the latest software tools.
Flexibility – We'll work at our site or yours, on a variety of software, when you need us.
Cutting Edge – Our staff is trained on the latest tools such as .NET, PHP, C++, Java, and the most current databases.
Cost Effective – With Applied, you can start and stop projects as your budgets allow, and you'll save on training, recruiting, and other costs.
Goal Oriented – Our staff is able to work with tight deadlines to get your project done on time.
Outside Perspective – Our programmers work in a variety of industries and can bring out-of-the-box thinking to your projects.
Stability – Applied has continued to grow over its last 35 years to over 100 employees and is a reliable, dependable partner.
Local – We're part of the same communities as many of our customers, and we believe in personal face-to-face meetings when needed.
Diverse, Yet Focused – Our range of skills include many areas of technology and business processes to bring our customers a complete solution.
Guarantee – Our company has grown based on our strong reputation for providing superior software development services.
Contact us today to get started on your next software development project.
Employee Spotlight: Josh Rader
Meet Josh Rader, Operations Director of Software Development at Applied Engineering. Josh is based out of Bismarck, ND and has been with Applied for over 8 years.
Watch the video below: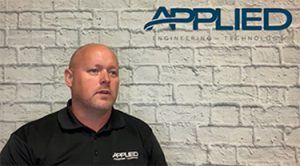 Have questions about software development? Contact us.
Embedded Specialty Skills
Applied Engineering helps businesses design and develop cutting-edge, innovative technologies fast and affordable.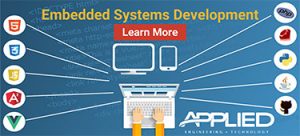 Click here to learn more about Applied's embedded systems development.
Upcoming Training Courses
Applied Engineering offers live, instructor-led training from anywhere. Check out some of our upcoming courses below.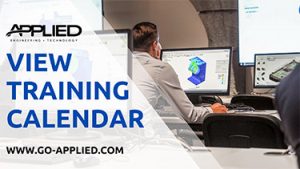 AutoCAD Electrical
June 22nd – 24th, 2021
The AutoCAD® Electrical Fundamentals course covers the indispensable core topics for working with the AutoCAD® Electrical software. In this student guide, students learn how to use many of the powerful electrical drawing creation tools in the AutoCAD Electrical software. Students create schematic drawings (ladder logic and point to point), panel drawings, and PLC-I/O circuits using automated commands for symbol insertion, component tagging, wire numbering, and drawing modification. In addition, students are introduced to methods of customizing AutoCAD Electrical symbols, circuits, and databases. Other topics covered include titleblock linking, reporting tools, templates, and project files.
Inventor Sheetmetal Design
July 6th – 7th, 2021
The Autodesk® Inventor® Sheet Metal Design training course introduces the concepts and techniques of sheet metal modeling with the Autodesk Inventor software.
AutoCAD Fundamentals
June 21st – 25th, 2021
The objective of AutoCAD Fundamentals is to enable students to create a basic 2D drawing in the AutoCAD software. Even at this fundamental level, the AutoCAD software is one of the most sophisticated computer applications that you are likely to encounter. Therefore, learning to use it can be challenging. To make the process easier and provide flexibility for instructors and students, the student guide is divided into two parts that can be taken independently.
30% Off Fusion 360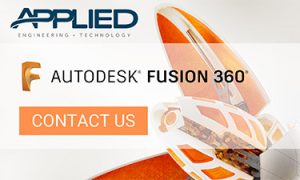 From now until June 30th, 2021, get up to 30% off when you subscribe to Fusion 360 (1- or 3-year), Fusion 360 – Team Participant (1- or 3-year), Fusion 360 – Machining Extension (1-year), Fusion 360 – Generative Design Extension (1-year), Fusion 360 – Additive Build Extension (1-year), Fusion 360 – Nesting & Fabrication Extension (1-year), and/or Fusion 360 – Manage Extension (1-year).
Contact Applied Engineering to take advantage of this limited time offer!