Long-Term Relationships with our Customers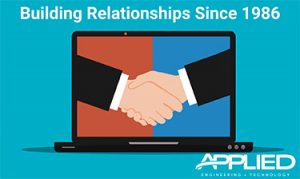 Since the very beginning, Applied Engineering has focused on quality and customer service. We always put the customer first and if a challenge arises, we strive to make things right. Because of this, we have maintained several long-term relationships with customers. For example, the first customer we started with over 30 years ago is still with us today.
In many cases, our long-term customers are so comfortable with Applied that we are the only company they work with for their engineering needs, whether it be consulting, filling capacity gaps, or purchasing and maintaining software subscriptions.
It is these long relationships that set us apart from our competitors. They drive us to continue to put our customers first and provide high quality service. We have been doing it for the last 30 years and we will continue for the next 30 years.
Contact Applied Engineering today to start your next project.
Employee Spotlight: Natalie Schroeder
Meet Applied Design Engineer, Natalie Schroeder. Natalie has been with Applied for 14 years and is based out of our Fargo, ND office.