Did you miss What's New Week?
We've recorded each session so you can see what's new anytime.
AutoCAD Electrical 2022: What's New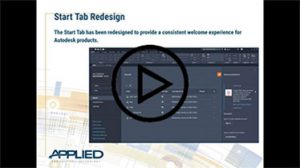 Watch as Applied Design Engineer, Natalie Schroeder, covers new features of AutoCAD Electrical 2022, including:
SQL Support for Autodesk Vault
Trace
Count
Floating Drawing Windows
Share Current Drawing
Start Tab Redesign
Much more!
Learn more about AutoCAD Electrical
Inventor 2022: What's New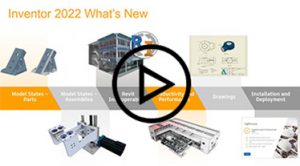 Watch as Applied Applications Specialist / Senior Designer, Jerry Oye, details the features of Inventor's 2022 update, including:
Model States – Parts & Assemblies
Revit Interoperability
Drawing Enhancements
Productivity & Performance
Installation & Deployment
Learn more about Autodesk Inventor
Vault 2022: What's New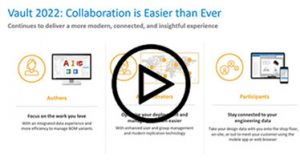 Watch as Applied Technical Resources Manager, Eric Miller, covers updates and improvements to Vault 2022, such as:
Web Browser Interface
Vault Mobile App
Inventor-Revit Interoperability
Duplicate Search
And More!
Learn more about Autodesk Vault
Employee Spotlight: Natalie Schroeder
Meet Applied Design Engineer, Natalie Schroeder. Natalie has been with Applied for 14 years and is based out of our Fargo, ND office.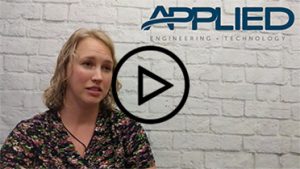 Image link : https://youtu.be/iT5MbsP_Nio
Long-Term Relationships with our Customers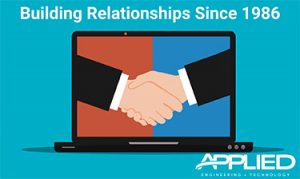 Since the very beginning, Applied Engineering has focused on quality and customer service. We always put the customer first and if a challenge arises, we strive to make things right. Because of this, we have maintained several long-term relationships with customers. For example, the first customer we started with over 30 years ago is still with us today.
In many cases, our long-term customers are so comfortable with Applied that we are the only company they work with for their engineering needs, whether it be consulting, filling capacity gaps, or purchasing and maintaining software subscriptions.
It is these long relationships that set us apart from our competitors. They drive us to continue to put our customers first and provide high quality service. We have been doing it for the last 30 years and we will continue for the next 30 years.
Contact Applied Engineering today to start your next project.
Live, Instructor-Led Training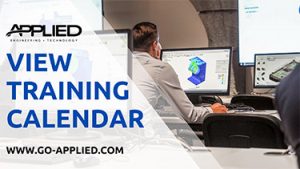 Don't see the course you need? Get in touch with us to set up a class. We offer a wide range of classes on Autodesk software, and can even create a custom class just for you!
Inventor Intro to Solid Modeling
July 26th – 29th, 2021
The Autodesk® Inventor® Introduction to Solid Modeling training course provides you with an understanding of the parametric design philosophy through a hands-on, practice-intensive curriculum. You will learn the key skills and knowledge needed to design models using Autodesk Inventor, starting with conceptual sketching, through to solid modeling, assembly design, and drawing production.
AutoCAD Electrical Fundamentals
July 27th – 29th, 2021
The AutoCAD® Electrical Fundamentals course covers the indispensable core topics for working with the AutoCAD® Electrical software. In this student guide, students learn how to use many of the powerful electrical drawing creation tools in the AutoCAD Electrical software. Students create schematic drawings (ladder logic and point to point), panel drawings, and PLC-I/O circuits using automated commands for symbol insertion, component tagging, wire numbering, and drawing modification. In addition, students are introduced to methods of customizing AutoCAD Electrical symbols, circuits, and databases. Other topics covered include titleblock linking, reporting tools, templates, and project files.
Questions about training? Contact us.
Fusion 360 for Electronics Engineers
Get more than seamless integration with unified electronics design.
True 3D PCB design: 3D visualization of your PCB is not the solution. Start designing in the only 3D PCB package of its kind.
ECAD to MCAD, finally one data set: Never second-guess your mechanical constraints and eliminate the headaches of old interchange file formats. Your PCB data is your mechanical data.
Fully functional, comprehensive PCB design: Using separate tools to design your products is a workflow of the past. Create the next evolution of product with a unified schematic, PCB, library management, simulation, and mechanical design in a single development platform.
What's New Fusion 360 Electronics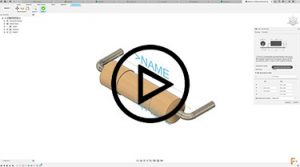 Contact Applied Engineering to learn more!
Save 30% on Fusion 360 Until July 30th, 2021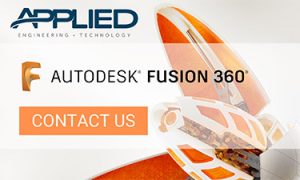 From now until July 30th, 2021, get up to 30% off when you subscribe to:
Fusion 360 (1- or 3-year)
Fusion 360 – Team Participant (1- or 3-year)
Fusion 360 – Machining Extension (1-year)
Fusion 360 – Generative Design Extension (1-year
Fusion 360 – Additive Build Extension (1-year)
Fusion 360 – Nesting & Fabrication Extension (1-year)
Fusion 360 – Manage Extension (1-year)
Contact Applied Engineering to take advantage of this limited time offer!
Webinar Rewind

AutoCAD Electrical is AutoCAD software for controls designers, built specifically to create and modify electrical control systems. It includes all the functionality of AutoCAD plus comprehensive symbol libraries and tools for automating electrical control engineering tasks.
In Part 1, you will learn how to make the most of your drawing template by utilizing fields. Watch how to set up the PLC I/O Utility to automatically create several drawings with PLCs and up to nine in-line components.
Topics Covered:
'Smart' Drawing Template
Using the PLC I/O Utility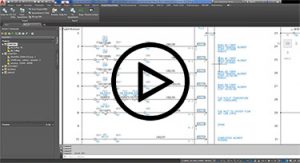 Part 2 will demonstrate some advanced functionality using the PLC I/O Utility such as adding jumpers between rungs & including a sub-circuit. Learn how to automatically add wire annotation information to your panel layouts.