Applied Engineering is Now Specialized in Autodesk Fusion 360 Manage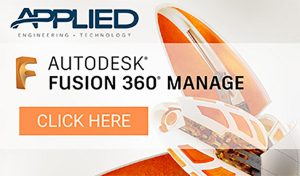 Autodesk® Fusion Lifecycle is the next generation of cloud based product lifecycle management (PLM).
Autodesk PLM provides enterprise-wide collaboration for all involved in the product lifecycle – from engineering and supply chain to quality and manufacturing – everyone working from a central source so you can bring better products to market faster.
With everyone working from a central source, you can bring better products to market faster.
To learn more about Fusion 360 Manage, click here or contact Applied Engineering.
Employee Spotlight: Paul Bartron
Meet Applied's Director of Printing & Reprographics, Paul Bartron. Paul has been with Applied since 2019, and has spent the last year and a half focusing on how to expand our printing and scanning capabilities. Watch the video below!
Click here to learn more about Applied Printing & Reprographics.
Manufacturing Efficiency – Diving Deeper

Applied Engineering dives deep into your manufacturing processes to assess which areas are working and which areas could use improvement. Some areas that often could use improvements include:
Overall workflow
Technology
Inventory accuracy
Real-time KPI
Data flow
More!
Improving a company's manufacturing efficiency is a continual process.
Background: Establish a baseline (time studies, throughput, identify and record KPI), evaluate your process and conduct a workflow study, identify bottlenecks and areas for improvement.
Plan: Make an improvement plan based on the background data – i.e. leverage lean principles (minimize non-value actions), factory layout, software integration, manufacturing engineering software.
Implement plan: Schedule the complete identified plan. Complete an ongoing evaluation during implementation.
Review: It is important to review the changes you've made and assess their level of success. This should be an ongoing process.
Contact Applied Engineering today to improve your manufacturing efficiency.
What's New Week
Join us in June as we highlight the updates and improvements made to AutoCAD Electrical, Inventor, and Vault 2022.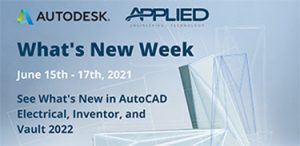 What's New AutoCAD Electrical 2022
Tuesday, June 15th, 2021 11:00AM
Join Applied Design Engineer, Natalie Schroeder, as she covers new features of AutoCAD Electrical 2022, including:
SQL Support for Autodesk Vault
Trace
Count
Floating Drawing Windows
Share Current Drawing
Start Tab Redesign
Much more!
What's New Inventor 2022
Wednesday, June 16th, 2021 11:00AM
Join Applied Applications Specialist / Senior Designer, Jerry Oye, as he details the features of Inventor's 2022 update, including:
Model States – Parts & Assemblies
Revit Interoperability
Drawing Enhancements
Productivity & Performance
Installation & Deployment
What's New Vault 2022
Thursday, June 17th, 2021 11:00AM
Join Applied Technical Resources Manager, Eric Miller, as he covers updates and improvements to Vault 2022, such as:
Web Browser Interface
Vault Mobile App
Inventor-Revit Interoperability
Duplicate Search
And More!
Autodesk News: End of Sale  for Autodesk TruNest, TruComposites – Standard, and TruComposites – Ultimate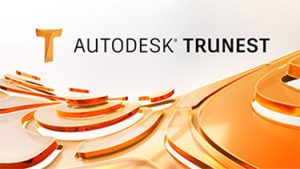 On Friday, May 7, 2021, Autodesk will end new sales and multi-year renewals (End of Sale – EOS) of Autodesk TruNest, TruComposite – Standard, and TruComposites – Ultimate. Customers will not be able to purchase new subscriptions. Existing customers will be able to renew their subscriptions for one year.
Contact Applied Engineering for more info.
0% Financing Returns for Q2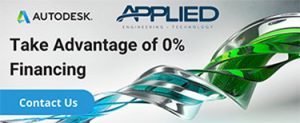 Autodesk has announced that they are bringing back 0% financing until July 19th, 2021.
Financing under this offer applies to new and renewing Autodesk software subscriptions with 3-year term length only. The minimum deal size is $50,000 and annual payment terms are required. Alternative payment terms may be available at additional cost. 3-year subscriptions which were switched from maintenance, and exceed the deal size threshold, are automatically eligible. Select 3-year purchases for product subscriptions not switched from maintenance may also be eligible for 0% financing with an approved exception by Autodesk Sales Leadership.  
Availability of 0% Financing is subject to customer credit approval, and eligibility criteria as defined by the partnering financial institutions.  Please consult participating financial institutions for additional information.  
Contact Applied Engineering to learn more.