Optimize Your Product Capabilities with Simulation and Generative Design
Looking for a way to predict, validate, and optimize your products quickly and reliably? Autodesk Simulation software has got you covered. With a full portfolio of simulation solutions, including finite element analysis, computational fluid dynamics, plastic injection molding, and generative design, you can trust that your products will be successful.
Watch the video below to see why Simulation is essential for your business.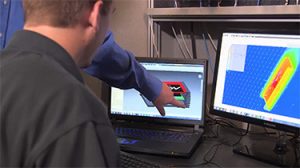 Generative Design, available in Autodesk Fusion 360, allows you to quickly produce high-performing design alternatives from a single idea. It lets you see designs you may not have considered and enables you to choose the best one for your criteria.
Check out the video below to learn more about generative design.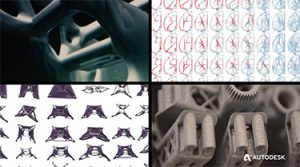 Contact us to discuss your simulation and design needs.
We Fit Your FEA Needs
Looking to reduce costs, accelerate design cycles, and improve product performance? Applied can help. Our highly knowledgeable analysis group is experienced in multiple facets of structural and computational dynamics.
Watch the video below for a more in-depth look at FEA and how Applied uses it to help your business.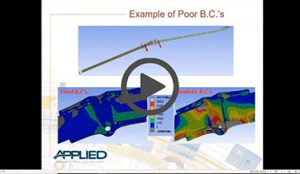 Contact Applied Engineering for your analysis needs.
Project Spotlight
At Applied Engineering, we take pride in our experiences because each new project grows our skillset. A recent project led us to work with a large manufacturer of boat lifts, docks, and other waterfront systems.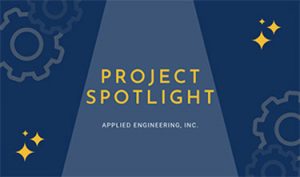 The Challenge
The customer needed assistance designing and validating a hydraulic boat lift with cost reductions over their current product. The primary design challenge was that the lift required a lower height than usual to allow it to operate in shallower water than its competitors.
 What did we do to help?
Applied designed the product to the customers' specification followed by structural analysis. We were able to meet cost target ranges while delivering a lift that could operate in 21 inches of water.
 Special Skills
This project required structural design and analysis skills. Our engineers used Inventor for the CAD design and a range of tools was utilized for the structural analysis. Analytical techniques laid the foundation for the hydraulic sizing and finite element analysis (FEA) was used to validate the structure through its entire range of motion.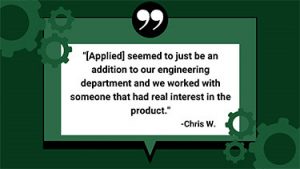 Contact us to get started on your next project today!
Live, Instructor-Led Training From Anywhere
Looking to expand your skills in Autodesk, SigmaNEST, Pro/Engineer, or Microsoft software? Applied can customize training course content to suit your business, including developing custom classes, eliminating unnecessary lessons and shortening course lengths to fit your needs. Currently, all training courses are being held remotely (with certain exceptions).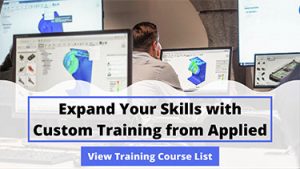 View our training calendar or contact us to discuss your training needs.
Upcoming Webinars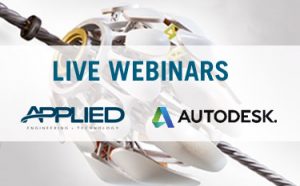 Autodesk Factory Design Utilities Webinar
Tuesday, March 9th, 2021 @ 11:00AM Central Time
With Factory Design Utilities software, you can plan and validate factory layouts for efficient equipment placement that can improve production performance. Factory Design Utilities features industrial machining, facilities layout, engineering services, and process analysis.
This webinar will discuss:
Typical workflow
How Factory Design Utilities works with AutoCAD, Inventor, and Navisworks
How to develop an efficient 2D layout
How to develop an efficient 3D layout

View our Newsletter Archive