Over the past 12 years, Applied Engineering has been recognized for many local and state awards. These awards are a testament to our dedication to creating a work environment that fosters communication and growth. Our awards are as follows:
Prairie Business 50 Best Places to Work
Bismarck-Mandan Top 10 Young Professional Workplaces
North Dakota Young Professional Best Place to Work and Intern
Click here to learn more.
Why Applied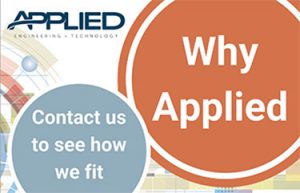 Looking to take your project to the next level but aren't sure where to start? Applied makes it easy.
When we say "Why Applied," we don't see this as a question. It's a statement that we stand proudly behind. We are the only firm with the talent and technology to fit your project, your process and your culture.
So, whether you need engineering solutions for your company, are looking for software training, or need printing and scanning solutions, we'll show you just why Applied Engineering is the right fit for you.