Over the past 12 years, Applied Engineering has been recognized for many local and state awards. These awards are a testament to our dedication to creating a work environment that fosters communication and growth. Our awards are as follows:
Prairie Business 50 Best Places to Work
Bismarck-Mandan Top 10 Young Professional Workplaces
North Dakota Young Professional Best Place to Work and Intern
Click here to learn more.
Looking Forward to 2021: The Future of Making
The future of making is here, bringing with it radical changes in the way things are designed, made, and used. It's disrupting every industry: architecture, engineering, and construction; manufacturing; and media and entertainment. With the right knowledge and tools, this disruption is your opportunity.
Watch the video below to see a preview of the Future of Making.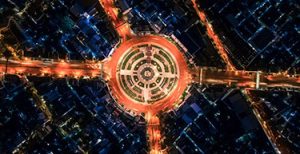 Training Spotlight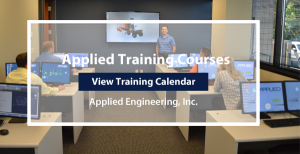 Looking to improve your skills in Autodesk software? Applied Engineering offers live Autodesk training when, where, and however you need.
Autodesk Inventor Intro to Solid Modeling
December 14th – 17th, 2020 @ 8:30am – 4:30pm Central Time
The Autodesk® Inventor® Introduction to Solid Modeling training course provides you with an understanding of the parametric design philosophy through a hands-on, practice-intensive curriculum. You will learn the key skills and knowledge needed to design models using Autodesk Inventor, starting with conceptual sketching, through to solid modeling, assembly design, and drawing production.
Topics Covered:
Understanding the Autodesk® Inventor® software interface
Creating, constraining, and dimensioning 2D sketches
Creating and editing the solid base 3D feature from a sketch
Creating and editing secondary solid features that are sketched and placed
Creating equations and working with parameters
Manipulating the display of the model
Resolving feature failures
Duplicating geometry in the model
Placing and constraining/connecting parts in assemblies
Manipulating the display of components in an assembly
Duplicating components in an assembly
Obtaining model measurements and property information
Creating Presentation files (Exploded views and Animations)
Modifying and analyzing the components in an assembly
Simulating motion in an assembly
Creating parts and features in assemblies
Creating and editing an assembly Bill of Materials
Working with projects
Creating and annotating drawings and views
Customizing the Autodesk Inventor environment
Click here to view our full training calendar.
Why Applied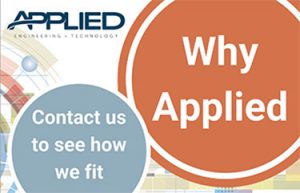 Looking to take your project to the next level but aren't sure where to start? Applied makes it easy.
When we say "Why Applied," we don't see this as a question. It's a statement that we stand proudly behind. We are the only firm with the talent and technology to fit your project, your process and your culture.
So, whether you need engineering solutions for your company, are looking for software training, or need printing and scanning solutions, we'll show you just why Applied Engineering is the right fit for you.
Get started on your next project today!
AutoCAD Webinar Series

Autodesk is broadcasting a new webinar series throughout December and January. Every subscription to AutoCAD includes access to seven industry-specific toolsets. This progressive webinar series will dive deep into various toolsets:
Electrical toolsets
December 16th, 2020 @ 10:00am Central Time
Learn about the advantages of using the electrical toolset:
Comprehensive symbol libraries
Automatic wire numbering and tagging, with automatic error checking
Electrical-specific drafting features
Automatic PLC/IO drawing creation from spreadsheets
Tracking electrical drawing changes
Project drawing re-use
Mechanical toolsets
January 21st, 2020 @ 10:00am Central Time
Gain insight into the benefits of the mechanical toolset including:
Detailing and optimization of designs
Calculating forces in a mechanism
Creating views of a mechanical design
Adding standard screws and holes
Inserting balloons and parts lists (BOM)
Upcoming Applied Webinars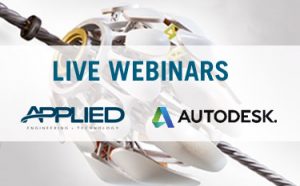 Product Data Management Best Practices
Thursday, December 10th, 2020 @ 11:00 AM Central Time
Autodesk Vault is a Product Data Management software that allows you to collaborate with everyone on your team, reuse designs, and reduce disruptions.
This webinar will cover how to:
Free Up Capacity
Encourage Collaboration
Minimize Design Change Requests