Free-Up Capacity with Data Management & Collaboration
Are your projects getting bogged down with large amounts of data? Is collaboration among your staff a challenge? Autodesk Vault Professional is a product data management software that improves productivity through collaboration and organization.
Vault Professional allows you to:
Reduce low-value manual tasks by reusing data to perform design iterations sooner in the design process.
Improve collaboration and get new products to market faster by keeping all departments in sync, by tracking and managing data in one secure, central location.
Avoid decision-making delays with efficient access to the right data at the right time.
Watch the video below to see what's new in Vault 2021.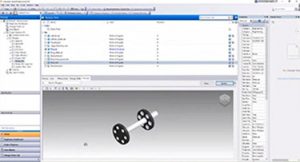 Contact Applied Engineering for more information or click here to request pricing.
Supporting Our Customers – Breaking the Status Quo
Applied Engineering is different because "we fit" your company. Not only do we make this claim, but we have the experience and portfolio to back it up.
Customer Profile
Poly-Tex is a manufacturer and retailer of greenhouses and display systems. For over 30 years now, Poly-Tex has grown and changed along with the green industry while still holding true to their roots, and they continually search for ways to meet the needs of an ever-changing industry.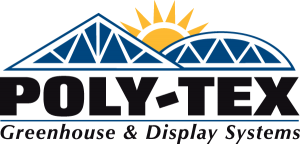 Project
A few years ago, to organize and secure important data, Poly-Tex purchased Vault – a product data management program – from our technology team. Applied implemented Vault and facilitated the data transfer. In addition, our software engineers constructed drawing templates, start parts, and borders. These items organize their data and increase design efficiency. Each year Applied ensures that Poly-Tex's systems are updated with the latest version of Vault and verifies data integrity.
How We're Different
Most companies help via online messages or over the phone. Applied Engineering goes above this preconceived notion of service. Our talented employees went to PolyTex's site to ensure that the data was transferred correctly and completely.
Contact Applied Engineering today for a free consultation.
Minimize Design & Manufacturing Change Requests
Minimize detrimental impacts of design changes on innovation by automating downstream workflows into manufacturing processes with Inventor + HSM or Fusion 360.
Fusion 360 enables your staff to work together in an integrated design, engineering, and manufacturing platform, virtually anywhere, on any device. It connects the entire product development process in a single cloud-based platform.
Autodesk HSM is a CAM add-on that works with Inventor and provides a seamless workflow from design through CNC manufacturing, maintaining model associativity for automatic update with part changes.
Watch the video below to learn more about how HSM can improve your manufacturing processes.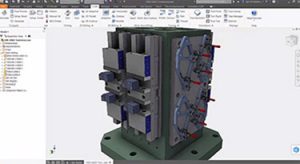 Click here to download a free trial of Autodesk HSM.
Top Ten Reasons to Use Applied Engineering for Your Next Project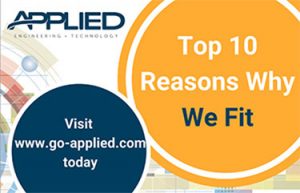 Experience – We have a large staff of engineers, designer, and technicians experienced in product design, testing, and manufacturing.
Flexibility – We'll work at our site or yours, on a variety of software, when and where you need us.
Cutting Edge – Our staff is trained on the latest tools such as Autodesk Inventor, Creo, NX, SolidWorks, and FEA and analysis software.
Cost Effective – With Applied, you can start and stop projects as budgets allow, and you'll save on training, recruiting, and other costs.
Goal Oriented – Our staff is able to work with tight deadlines to get your project done on time.
Outside Perspective – Our engineers work in a variety of industries and can bring out-of-the-box thinking to your project.
Stability – Applied has continued to grow over its last 30 years to over 100 employees and is a reliable, dependable partner.
Local – We're part of the same communities as many of our customers, and we believe in personal face-to-face meetings when needed.
Diverse Yet Focused – Our range of skills include many areas of engineering and technology to bring our customers a complete solution.
Guarantee – Our company has grown based on our strong reputation for providing superior engineering services.
Click here to find out how we can fit your company.
Applied Training Courses – Sign Up Today and Get 20% Off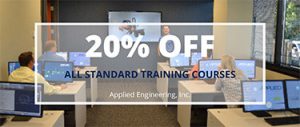 Applied Engineering is offering 20% off all standard training courses until November 30, 2020. Contact Applied Engineering with any questions or click here for a full list of training courses. Offer excludes specialized or custom training courses.
Autodesk Fusion 360: Introduction to Parametric Modeling
December 8-10, 2020
8:30AM – 4:30AM Central Time
The Autodesk® Fusion 360™ Introduction to Parametric Modeling course provides you with an understanding of the parametric design philosophy using the Autodesk® Fusion 360™ software. Through a hands-on, practice-intensive curriculum, learn the key skills and knowledge required to design models using the Autodesk Fusion 360 software.
Topics include:
Understanding the Autodesk Fusion 360 interface
Creating, constraining, and dimensioning 2D sketches
Creating and editing solid 3D features
Creating and using construction features
Creating equations and working with parameters
Manipulating the feature history of a design
Duplicating geometry in a design
Placing and constraining/connecting components in a single design file
Defining motion in a multi-component design
Creating components and features in a multi-component design
AutoCAD Electrical Advanced
February 23-24, 2020
8:30AM – 4:30PM Central Time
This course is designed for users who require comprehensive training in AutoCAD® Electrical software. This hands-on courseware focuses on how to build intelligent ladder diagrams and panel layouts, and how to leverage this intelligence. The courseware provides an overview of many AutoCAD® Electrical utilities designed to enable users to quickly build and manage electrical-controls drawings.
Topics include:
Title Block Setup
Menu Customization
Electrical standards
Custom Symbols
Pneumatic, Hydraulic, P & ID Components
PLC Customization
PLC I/O Utility
Export to/Import from Spreadsheet
Circuit Builder
Trade In & Save

From now until January 22nd, 2021, you can save when you trade in a perpetual license in favor of a single-user subscription to an industry collection or qualifying individual product. Get 20% off a 3-year subscription or 15% off a 1-year subscription.
Contact Applied Engineering to take advantage of this special deal!
*A valid, eligible serial number and corresponding perpetual license must be submitted for this offer. May not be combined with other offers.
Autodesk Inventor Nastran Essentials Training Course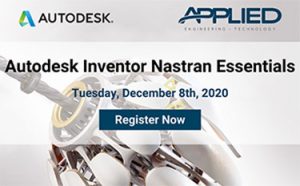 Tuesday, December 8th, 2020
8:30AM – 4:30PM Central Time
The Autodesk® Nastran® In-CAD 2017 Essentials student guide instructs students in the use of the Autodesk® Nastran® In-CAD software. This student guide was written using the 2017.0.0.27 build of the Autodesk® Nastran® In-CAD 2017 software. The software is a finite element analysis (FEA) tool that is embedded directly in the Autodesk® Inventor® software as an Add-In. It is powered by the Autodesk Nastran solver and offers simulation capabilities specifically tailored for designers and analysts as a tool for predicting the physical behavior of parts or assemblies under various boundary conditions. Through a hands-on, practice-intensive curriculum, students acquire the knowledge required to work in the Autodesk Nastran In-CAD environment to setup and conduct FEA analyzes on part and assembly models.
Topics Covered:
Activate and navigate the Autodesk Nastran In-CAD environment to conduct FEA analyzes.
Create, edit, and assign idealizations and materials (linear, nonlinear, and composites).
Manage the creation, setup, and modification of analyses and subcases that are used to analyze both static and dynamic models. Specific analyses types covered in this student guide include: Linear Static, Nonlinear Static, Nonlinear Transient Response, Normal Modes, Direct Frequency Response, Modal Frequency Response, Direct Transient Response, Modal Transient Response
Create constraints with the required degrees of freedom and assign them to entities.
Create loads that accurately represent the magnitude and location of the loads the model will experience in the working environment.
Create Connector elements to simulate how a physical connector such as a rod, cable, spring, rigid body, or bolt will affect the model.
Create Surface Contact elements to define contact between interacting components.
Assign global and local mesh settings.
Run an Autodesk Nastran In-CAD analysis.
Review and create plots for analyzing the results.
Upcoming Applied Webinars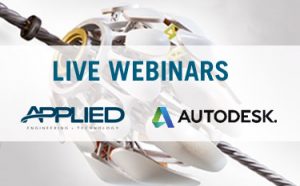 Validate Designs with Inventor Nastran Webinar
Inventor Nastran delivers finite element analysis (FEA) tools for engineers and analysts. Simulation covers multiple analysis types, such as linear and nonlinear stress, dynamics, and heat transfer.
In this webinar you will learn how to:
Prepare a Model for FEA
Customize Mesh
Make Sure Results Are Converging
Tuesday, November 24th, 2020 @ 11:00 AM Central Time
Product Data Management Best Practices
Autodesk Vault is a Product Data Management software that allows you to collaborate with everyone on your team, reuse designs, and reduce disruptions.
This webinar will cover how to:
Free Up Capacity
Encourage Collaboration
Minimize Design Change Requests
Thursday, December 10th, 2020 @ 11:00 AM Central Time