We Fit Your Analysis Challenges
Applied Engineering's talent, technology and adaptability will help you conquer your challenges.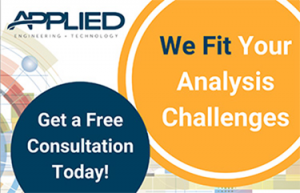 Simulation
Structural Analysis – Our FEA team specializes in structural analysis of mechanical systems, including complex non-linear materials and effects.
Fluid Dynamics – Our CFD experts will help you analyze complex fluid flows to optimize product behavior before manufacturing.
Failure Analysis – Have a problem in the field? Our analysis team can look at the failure, analyze it and recommend corrective actions.
Knowledge
Your Application – Our Applied analysts will take the time to understand your company and the application thoroughly, ensuring services meet your expectations.
Tools – We know how to get the most out of today's most technologically advanced software.
Industry – We are more than just data crunchers. Our analysts have real-world experience correlating analysis results to physical tests, ensuring reliable results you can trust.
Improve Your Business
Reduce Time To Market – Digital simulation helps you reduce physical prototyping and testing, allowing you to beat your competitors to market.
Improve Quality – Warranty repairs are costly and negatively affect your brand. Our analysis services can help reduce or eliminate these failures.
Reduce Product Cost – Applied can help you improve your products by eliminating unnecessary material, fasteners and complexity.
Contact Applied Engineering today to overcome your analysis challenges.
Applied is a Good Fit – What our Customers are Saying 
Applied Engineering is fully staffed with knowledgeable designers, project managers, and technical resource specialists. This combination of skills and experiences helps us answer any questions our customers may have.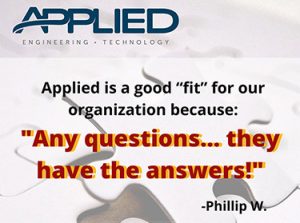 Contact Applied Engineering to see how we can fit your business.