Make Better Design Decisions with Effective Collaboration
Manage Change Orders More Efficiently
Handle engineering change orders, product modifications and releases more efficiently with change process management in Vault Professional.
Help Ensure Product Compliance
Help ensure product compliance by collecting and managing regulatory requirements in Vault Pro. Track product development history and enable reports for audits without intense effort from engineering teams.
Watch the video below for an overview of Vault data management.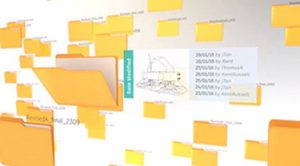 Contact Applied Engineering or click here to learn more about Vault Professional.
Share Up-To-Date Data with All Stakeholders
Avoid decision-making delays due to data loss or recreation with the ability to quickly find the right data at the right time in Vault Pro while the design is still in progress. Vault Pro also allows you to improve collaboration and keep all departments in sync, by tracking and managing data in one secure central location.
Enable your engineering team to better collaborate with outside vendors and teams in different geographic locations with Vault Pro and Fusion Team.
Watch the webinar below to learn about Fusion Team.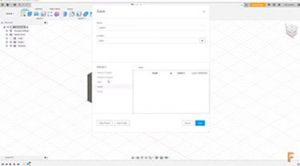 Contact Applied Engineering or click here to learn more about Fusion 360 or download a free trial.
What Our Customers are Saying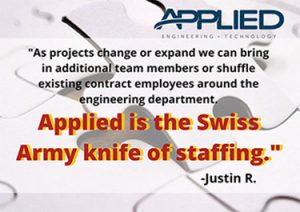 At Applied Engineering, we pride ourselves on being adaptable for our customers. With a full staff of design engineers and software developers, Applied has the skills and bandwidth to conquer any challenge our customers throw at us.
Contact Applied Engineering today to get started on your next project.
Extending a Company's Design Capacity – How We Fit
The Problem
In a recent project, Applied assisted a construction company with design requests from their customers. Their customers requested new buckets and components to improve their current machines. The construction company did not have the engineering resources required to fulfill this request. However, they still wanted to address the customer's needs, so they reached out to Applied Engineering.
How We Were Able to Help
Applied was brought in to provide the "horsepower" for the project and worked directly with the customers to develop the new attachments. These new attachments were made so that they would fit multiple OEMs, or original equipment manufacturers.
Applied's team released the new designs through customer systems and provided manufacturing implementation support.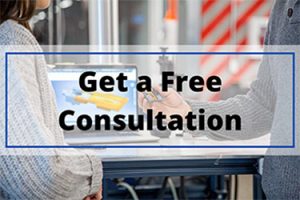 100% employee-owned and locally based, Applied Engineering is you resource for Product Development, Manufacturing Engineering, and Software Development. With a full staff of inhouse engineers, we are ready to collaborate with you when you need us. Contact us to get a free consultation.
Get 20% Off Training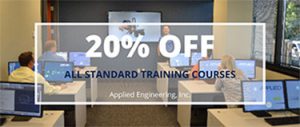 Applied Engineering is offering 20% off all standard training courses until October 31st, 2020. If you've had your eye on a class but weren't ready to pull the trigger, now is the time! Contact Applied Engineering with any questions or click here for a full list of training courses.
*Offer excludes specialized or custom training courses.
Applied Engineering Selected for 50 Best Places to Work Award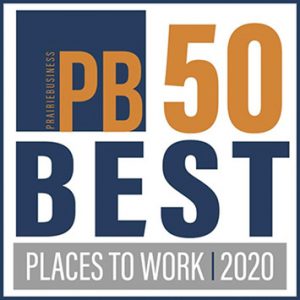 We are proud to announce that Applied Engineering has been awarded the honor of 50 Best Places to Work by Prairie Business Magazine. It is the sixth time Applied Engineering has been selected for this award. Prairie Business Magazine received over 1400 nominations this year from employees throughout the region before selecting the 50 Best Places to Work.
Prairie Business editor, Andrew Weeks, said of the winners, "it's easy to see that the selected companies truly do value their employees, and vice versa." This describes the culture at Applied Engineering perfectly. The leaders and the employees at Applied strive to create an environment that values growth and collaboration. This is not only beneficial for our employees, but for our customers as well. We are honored to be recognized as one of Prairie Business Magazine's 50 Best Places to Work, and we look forward to continuing to uphold and improve our workplace culture.
To learn more about Applied Engineering's values and skills, click here or contact us today!
40% Off Fusion 360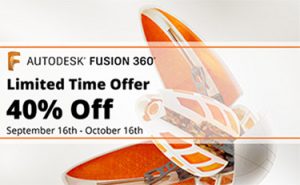 Beginning September 16th, 2020, receive 40% off when you subscribe to Fusion 360 (1- or 3-year), Fusion 360 – Team Participant (1- or 3-year), Fusion 360 – Manufacturing Extension (1-year), and/or Fusion 360 – Generative Design Extension (1-year). This offer is valid until October 16th, 2020.
Contact us to call 701-281-1884 to take advantage of this offer.
Get Up To 20% Off AutoCAD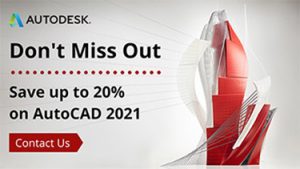 For a limited time, get up to 20% off of new subscriptions of AutoCAD with 1- or 3-year term lengths. This promotion is valid from September 8th – 11th, 2020.
Contact us or call us at 701-281-1884 to take advantage of this offer.
Upcoming Webinars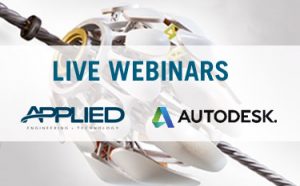 Vault Professional: Managing ECO Routings
Thursday, September 24th, 2020 @ 11:00AM Central Time
ECOs (Engineering Change Orders) are an important piece of the design workflow puzzle.  Tracking changes to products can reduce the chances of duplicating a mistake, ensure proper part revisions are installed in the field, and validate warranty issues have been resolved.  This webinar will go through the process of configuring ECOs and building effective routings while discussing best practices along the way.