Applied Day 2020
Applied Day is right around the corner!
Join us May 13th – 14th, 2020 as we host our 5th annual Applied Day. Tune in as Applied experts host free webinars covering a variety of topics.
Join us Wednesday, May 13th and Thursday, May 14th, 2020 for Applied Day!
Applied Day is a great opportunity to attend free webinars hosted by Applied specialists covering a wide variety of topics. Whether you need a refresher course on Autodesk software, or you are looking to increase manufacturing efficiency, Applied Day has the webinar for you
May 13, 2020
9:00 AM: Automating Engineering Designs with iLogic
Join Applied application specialist Jerry Oye as he covers automation within Autodesk Inventor iLogic. iLogic enable rules-driven design that allows you to standardize and automate design processes.
Register Now
10:00 AM: What's New Vault 2021
Join Applied engineer Eric Miller as he covers key enhancements available in the 2021 update of Autodesk Vault. Vault is an intuitive product data management that gives your team the ability to collaborate, securely retain and reuse product data, manage revisions, and more.
Register Now
11:00 AM: Moving to a Containerized Environment
Join Applied application developer Justin Kalvoda as he discusses moving to a containerized environment for applications and development.
Register Now
1:00 PM: Using Technology for Manufacturing Productivity Efficiency Analysis
Join Applied Engineering's Steve Thompson as he discusses using laser scanning to assess manufacturing efficiency. His talk will follow the laser scanning process all the way through to data analysis and calculating ROI.
Register Now
May 14, 2020
9:00 AM: AutoCAD Electrical 2021
Join Applied Electrical Engineer Natalie Schroeder as she covers updates available in the 2021 version of AutoCAD Electrical. During this webinar, she will go through workflows and tips and tricks for using the software.
Register Now
10:00 AM: What's New Inventor 2021
Join Applied application specialist Jerry Oye as he covers key enhancements to the 2021 update of Autodesk Inventor. Inventor is an intuitive program that aids with product design, automation, simulation, collaboration, and more.
Register Now
11:00 AM: Linking New Technology to Old: Driving a Pendulum Clock Through GPS
Join Bill Ockert as he discusses a recent project of his involving a wooden gear electronic impulse pendulum clock. The focus of the talk would include a history of pendulum-based gear clocks, his process for integrating new technology, and a results analysis.
Register Now
1:00 PM: FEA Overview and Best Practices
Join Applied engineer Alex Sinclair in an exclusive Applied Day FEA webinar. This webinar will cover a brief theoretical and general background on structural FEA. It will also explore each step of the finite element process.
Register Now
What's New in Inventor 2021
The latest release of Inventor® is packed with user-requested updates and enhancements to help speed up your design workflows, reduce repetitive tasks, and work the way you want.
Watch the video below for a brief overview on what's new.
New features include:
Inventor AnyCAD for Revit
Drawing automation
Frame Generator enhancements
Part modeling improvements
Assembly modeling improvements
Drawing creation improvements
Inventor experience
Performance improvements
Click here here to download a free trial of Autodesk Inventor.
Make sure to tune in to Applied Day for a more in-depth overview of what's new.
What's New AutoCAD 2021 Webinar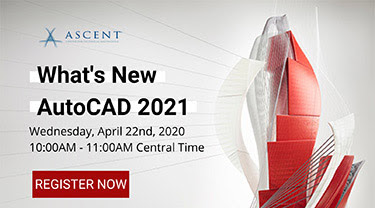 Wednesday, April 22, 2020
10:00am Central Time
Register Now
Join Ascent for this free, informative webcast showcasing some new or enhanced tools and features in AutoCAD 2021.
During this webcast, learn to:
Remove part of an object that extends past a cutting edge.
Lengthen an object to reach a required edge.
Obtain dimensions, distances, angles, and area using a single Measure tool.
Insert blocks and drawings into the current drawing.
Identify the differences in 2 different versions of an external reference file.
We Fit Your Engineering Challenges
Applied Engineering's talent, technology, and adaptability will help you conquer your challenges.

Design
Talent: Applied's talented team of engineers will work at your site or in our design centers using the latest tools to help you with product design and documentation.
Perspective: Our outside perspective will bring new ideas from a variety of industries and backgrounds.
Technology: Our software team will sell and implement industry-leading design software and will train and support your team the whole way.
Analyze
Digital Prototype: Applied will digitally prototype your design, allowing you to analyze performance, physical properties, and cost before cutting a single piece of steel.
Expertise: Our analysis and simulation experts provide a wide range of finite element analysis services, including structural analysis, CFD, thermal analysis, and failure analysis.
Cutting Edge Tools: Our team will also set and implement industry-leading analysis and simulation software and will train your in-house analysts.
Manufacture
Savings: Applied's talented team of engineers will help you with plant layout, process improvement, sourcing, and other manufacturing engineering challenges, resulting in material, time, and cost savings.
Complete Support: From concept to production, Applied Engineering will help you make your product better and get it to market faster.
By Your Side: Applied's experienced software team will sell and implement industry-leading design, manufacturing, and product lifecycle management software. We will train and support your team the whole way.
Contact Applied Engineering today for a free consultation.
Applied's Move to Remote Work Amid COVID-19
Following CDC guidelines and current shelter-in-place restrictions, the majority of Applied Engineering's team has moved to remote work. We feel so fortunate to have the technology to be able to work from anywhere while still meeting our customers needs as efficiently as possible. We want to extend our thanks to all medical staff, supply chain workers, retail workers, and all other essential personnel. Here at Applied, we are looking forward to meeting with clients, coworkers, and friends face to face again soon. Until then, we wish you the best in remaining healthy and safe.
Please contact Applied Engineering with any questions you may have regarding our current COVID-19 precautions.
Class Spotlight: AutoCAD Electrical Fundamentals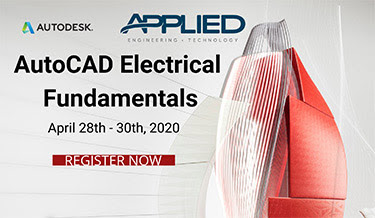 April 28-30, 2020
8:00am – 4:00pm Central Time
Register Now
The AutoCAD® Electrical Fundamentals course covers the indispensable core topics for working with the AutoCAD® Electrical software. In this student guide, students learn how to use many of the powerful electrical drawing creation tools in the AutoCAD Electrical software. Students create schematic drawings (ladder logic and point to point), panel drawings, and PLC-I/O circuits using automated commands for symbol insertion, component tagging, wire numbering, and drawing modification. In addition, students are introduced to methods of customizing AutoCAD Electrical symbols, circuits, and databases. Other topics covered include titleblock linking, reporting tools, templates, and project files.
Topics Covered:
Understanding project files.
Working with PLC symbols.
Creating custom symbols.
Generating reports.
Save Up To 15% on a New AutoCAD Subscription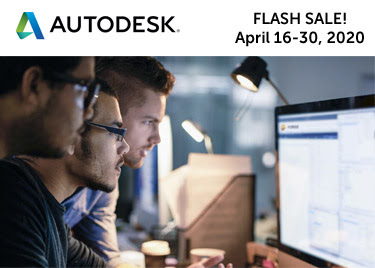 From April 16th until April 30th, 2020, Autodesk is offering 10% off new 1-year AutoCAD subscriptions and 15% off new 3-year AutoCAD subscriptions.
AutoCAD gives you seamless workflows, specialized industry toolsets, and new automations to help your productivity in 2D and 3D design. Work anywhere with included AutoCAD web and mobile apps.
Contact Applied Engineering to take advantage of this limited time offer.