Applied Named Best Place to Work
North Dakota Young Professionals Recognize Applied Engineering, Inc. as Best Place to Work
Bismarck, ND – North Dakota Young Professionals (NDYP) Network has chosen
Applied Engineering, Inc. as the 2011 Best Place to Work.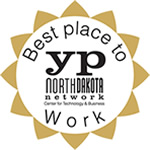 "Applied Engineering is honored to receive this award. At Applied Engineering, we work hard to create a culture that offers exciting opportunities and careers for young professionals. As an employee-owned company, we're proud of this recognition and we look forward to continuing to offer an invigorating, positive environment for talented young professionals who share our commitment in providing superior engineering and technology solutions," said CEO/President Dave Raatz.
Over 50 percent of Applied Engineering Inc's staff is comprised of young professionals. Applied Engineering was recognized not only because of the diverse work experiences it offers to young professionals, but also because it provides the opportunity to build relationships with colleagues and clients from different industries worldwide. Even with the best products and services, strong relationships are the key to success in any industry. Applied Engineering's young professionals are fundamental players in building and cultivating these relationships.
"The quality of nominees from across the state signifies that businesses in North Dakota understand the importance of attracting, retaining and engaging young professionals," says Laurie Morse-Dell, NDYP coordinator. "We are very pleased to present Applied Engineering, Inc. with the Best Place to Work Award and to recognize their tremendous efforts in developing young professionals."
Started by NDYP in 2008, the Best Place to Work Awards are a reflection of the creativity and innovation that businesses offer young professionals. To be considered for the award, applicants submit a detailed questionnaire about company benefits, advancement opportunities, and why their business is an outstanding place for young professionals to work.
Applied Engineering, Inc. provides leading engineering and technology services and products to customers throughout the United States. Applied Engineering is 100 percent employee-owned and has offices in North Dakota (headquarters), South Dakota, Minnesota, Wisconsin and Texas.
For more information about Applied Engineering's products and services, please visit www.ae-solutions.com.
###
Contact info:
Hope Wedul, Human Resources, Applied Engineering Inc.
(701) 255-1137
hwedul@ae-solutions.com