Day or night, we're there for you
Applied's service doesn't stop at installation. Once your solution is implemented, we will train you on system operation to ensure you understand how to obtain the most value from your investment. Since your IT Infrastructure needs don't necessarily stop at 5 pm, rest assured that with 24/7 service available, our team of experts is on call around the clock.
New Projects and Upgrades
Assess your current environment, upcoming projects, and business initiatives
Recommend and design solutions to help meet business goals
Configure and install new software and equipment according to best practices
Train and support IT staff to ensure a successful implementation
Managed Services
24x7x365 Support
Predictive analysis of your systems
Patch Management
Asset management
Reporting
Support
System Assessments
Day-to-day IT support
Hardware/software upgrades
Troubleshooting
Training
Knowledge is power
An effective training program will ensure the biggest return on your IT investment by training system users on correct usage and best practices. With experts in a variety of IT products and services, Applied can create a program customized for either one-on-one training or building a session for your entire staff. In the classroom or online, we'll train on your timetable and build a curriculum that fits into your organization's schedule.
For additional training resources from Applied Engineering, click here. Or simply contact us to start building a training program for your organization.
Server Virtualization
Applied Engineering offers leading-edge technology in server, storage, and virtualization software to ensure a robust high-performing server environment.
Virtualization Benefits:
Reduce IT cost
Increase application uptime
Centralize and simplify server management, maintenance, and deployments
Ensure rapid recovery in case of disasters
Go Green by decreasing power consumption in your server room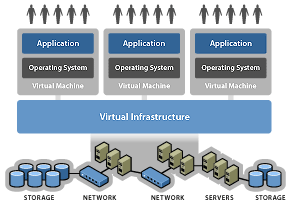 Applied Engineer will work with you to optimize and secure your Data Center.
Desktop Virtualization
Deploy desktops faster and improve business continuity and disaster recovery while reducing capital and operating system costs through desktop and application virtualization. Migrate and upgrade operating systems and applications with less downtime, eliminate the need to recode, retest and recertify applications, and get more out of your existing desktop assets.
Reduce the need for IT admin staff at remote and branch offices by delivering virtual desktops to remote and temporary users while protecting corporate data. Centralize desktop management and speed up desktop deployments while reducing both operating and support costs.
Networking
Applied Engineering has everything you need to connect your business to the world–simply, reliably, and affordably – so you can stay focused on your business.
Networking Solution Benefits:
Increase network reliability and availability
Optimize application performance
Centralize network configuration and management
Improve remote sites performance
Decrease maintenance and troubleshooting
Let Applied Engineering's certified engineers help design, implement, and support your network infrastructure.
Data Protection
Applied Engineering is serious about its mission to help you with your data protection needs. You need:
Business Continuity
The backup and recovery solutions to keep your systems running full-time
Compliance
The controls you need to meet data compliance guidelines
Disaster recovery
Powerful disaster protection begins with a range of options for populating your DR site
Heterogeneous environments
Support for hundreds of operating systems, computers, storage platforms, and applications
Remote office, branch office
Manage your remote office backups and disaster recovery plan from your central office
Virtualization
Protection for your virtual infrastructure, built into your system
Security
Applied Engineering understands that you need security that frees you to focus on your business, tailored to fit:
Your security goals
Are your security goals a moving target? Reach them once and for all.
Your company size
Small or large, you need security that fits your business.
Your industry
Constrained by the nature of your business? Get protection that works with you – not against you.
Contact Applied Engineering today to further discuss our professional services.