Autodesk® iLogic RapidSetup Program
RapidSetup for iLogic, which is included in Inventor Suite packages for free, allows you to learn and implement iLogic for rules-based design automation. iLogic RapidSetup involves a mix of training and on-site consulting to get you up to speed quickly.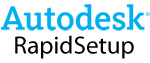 Step 1: Training
iLogic Fundamentals
Understanding iLogic's Rules Editor.
Create iLogic part files.
Create iLogic assembly files.
Read from an embedded spreadsheet.
Linking to a spreadsheet.
Using iLogic UI Builder.
Prerequisites: Autodesk Inventor Introduction to Solid Modeling & Autodesk Inventor Advanced Parts
Modeling
Step 2: Customer Proof of Concept
Following the training session, you will begin working on a project utilizing iLogic. When you
have completed your proof of concept project, you will schedule your on-site consulting & review
session. The consulting & review session should occur within 60 days of the iLogic
fundamentals training class.
Step 3: On-site Consulting & Review Session
During the on-site consulting & review session you will work with Applied Engineering's
technical experts to:
Demonstrate your proof of concept project.
Discuss areas for improvement.
Identify and define workflows for future implementation.
Prepare a presentation about the business value of iLogic and your proof of concept project for your management team.
iLogic is included in all Inventor Suite software packages at no extra cost.
Contact us for more information about the RapidSetup program for Autodesk® iLogic.