Build to Order / Configure to Order Solutions
iLogic™ software allows designers and engineers to capture and embed engineering and product knowledge directly into digital prototypes. iLogic introduces a design for reuse and automation methodology that is the next logical step in parametric modeling.
iLogic paves the way for rules-driven design that allows you to create full-scale build-to-order/configure-to-order solutions for the products you design and manufacture.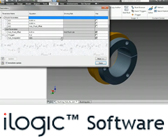 Autodesk iLogic is included in the following Autodesk products:
Autodesk® Inventor™
Autodesk Inventor Professional
Autodesk Product Design & Manufacturing Collection
Consulting & Implementation Services
Applied Engineering's software consultants can help you implement a build-to-order/configure-to-order solution for your business. Contact us to discuss learn more about our RapidSetup and technology consulting services.
Learn more about the RapidSetup for Autodesk iLogic
Implementing Autodesk® iLogic™
Contact us if you are interested in implementing a build-to-order/configure-to-order solution. Applied Engineering is authorized to sell Autodesk products in Minnesota, North Dakota, South Dakota, Wisconsin and Northern Iowa.