Autodesk® Inventor® software provides engineers and designers professional-grade design and engineering solutions for 3D mechanical design, simulation, visualization, and documentation. With Inventor software, engineers can integrate 2D and 3D data into a single design environment, creating a virtual representation of the final product that enables them to validate the form, fit, and function before it's built. Autodesk Inventor includes powerful parametric, direct edit, and freeform modeling tools, as well as multi-CAD translation capabilities and native DWG™ drawings—helping you to reduce development costs, get to market faster, and make great products.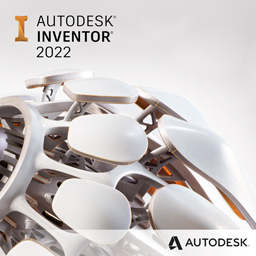 Download a Free Trial
Request Pricing
See What's New in Autodesk Inventor 2022
Autodesk® Inventor™ Features
Complete
Powerful blend of parametric, direct, freeform, and rules-based design and documentation capabilities
Integrated tools for sheet metal, frame design, tube and pipe, cable & harness, presentations, rendering, simulation, machine design, and more
Trusted DWG™ compatibility and powerful Model-Based Definition capabilities for embedding manufacturing information directly in the 3D model
Custom fabrication & building content creation with direct import and publishing of native Revit file formats
Intuitive, cohesive, modern user experience with in-product learning path and guided tutorials
Connected
AnyCAD technology that associatively imports non-native CAD and automatically accounts for changes as they occur, without translation
Integrated Autodesk Vault data management workflows enabling design teams to efficiently organize and manage their work across their team
Included Shared Views capabilities that enable you to easily collect work-in-progress feedback from anyone, anywhere, on any device
Included CAD-aware connection to Autodesk Drive for cloud-based storage and sharing
Automated
Automation powered by iLogic, enabling rapid assembly reconfigurations, efficient design re-use, and more
Standard & customizable content libraries including beams, bolted connections, gears, cams, belts, springs
Extensive API enabling customization and automation with global third-party developer ecosystem
Performance optimization for creating and editing very large assemblies and complex drawings
When purchased with Autodesk Product Design and Manufacturing Collection, Inventor additionally offers:
Advanced simulation with powerful, fully-integrated Nastran simulation capabilities spanning thermal, nonlinear, transient, buckling, vibration, and other analysis types
Powerful manufacturing capabilities such as in-canvas 2.5-5 axis toolpath generation and sheet metal nesting capabilities
Integrated tolerance analysis to understand the cost impact of dimensional variation
Unique factory design capabilities with layout tools and a bidirectional connection with AutoCAD
An associative connection with Fusion 360, enabling Inventor users to connect their models with Fusion 360 for generative design and other emerging capabilities on the Autodesk cloud platform
Schedule an Autodesk® Inventor™ Demonstration
If you are interested in viewing a software demonstration of Autodesk® Inventor™, please contact our sales team. Applied Engineering is happy to schedule a face-to-face or web demonstration at a time that is convenient for you.
Purchasing Autodesk® Inventor™
Contact us if you are interested in purchasing Autodesk® Inventor™. Applied Engineering is authorized to sell Autodesk products throughout the United States and has offices in Minnesota, North Dakota, South Dakota and Wisconsin.