SpaceMouse Pro from 3DConnexion
SpaceMouse Pro delivers 3Dconnexion's superior 3D navigation experience combined with an advanced ergonomic design and innovative On-Screen Display for a comfortable and more productive workflow.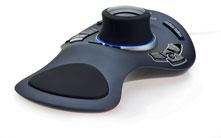 SpaceMouse Pro Specifications
The SpaceMouse Pro is compatible with:
Windows® XP and 2000
Windows® Vista
UNIX
Linux
The SpaceMouse Pro comes with a 3-year limited warranty and the device comes with phone, e-mail and web support.
**SpaceMouse Pro also can be bought Wireless. No more cords. No more constraints. SpaceMouse Pro Wireless builds on the success of the (wired) SpaceMouse Pro by adding 3Dconnexion 2.4 GHz wireless technology and a two month battery life.
SpaceMouse Pro Pricing
The SpaceMouse Pro is $299 or Wireless is $329. If you're considering buying multiple devices, contact us for more information about volume discounts.
View All Products and Buy Online