Join us June 15th – 17th, 2021 to see What's New in AutoCAD Electrical, Inventor, and Vault 2022.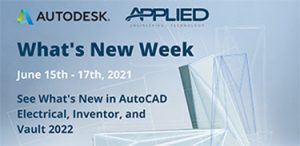 What's New AutoCAD Electrical 2022
Tuesday, June 15th, 2021 11:00AM
Join Applied Design Engineer, Natalie Schroeder, as she covers new features of AutoCAD Electrical 2022, including:
SQL Support for Autodesk Vault
Trace
Count
Floating Drawing Windows
Share Current Drawing
Start Tab Redesign
Much more!
What's New Inventor 2022
Wednesday, June 16th, 2021 11:00AM
Join Applied Applications Specialist / Senior Designer, Jerry Oye, as he details the features of Inventor's 2022 update, including:
Model States – Parts & Assemblies
Revit Interoperability
Drawing Enhancements
Productivity & Performance
Installation & Deployment
What's New Vault 2022
Thursday, June 17th, 2021 11:00AM
Join Applied Technical Resources Manager, Eric Miller, as he covers updates and improvements to Vault 2022, such as:
Web Browser Interface
Vault Mobile App
Inventor-Revit Interoperability
Duplicate Search
And More!