Last Chance to Register for Applied Day 2021
Applied Day is less than a week away! Register today for our 6th annual live webinar event and hear from experts in the fields of engineering, design, software development, and more!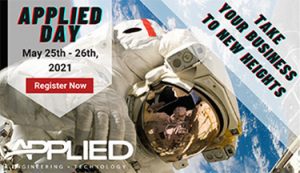 Technology Day – Tuesday, May 25th
9:00 AM PLM Jeopardy!
Join Brian Schanen in this live interactive session to see how Autodesk Product Lifecycle Management (PLM) can address customer challenges and have direct impact on your business. Watch as desired outcomes in the Manufacturing Industry are solved with Autodesk Data and Lifecycle management solutions.
10:00 AM The Difference Between PDM & PLM and Why You Need Both
Join Brian Schanen in this session that will outline common acronyms used – PDM, PLM – and demystify these as we showcase
New Product Introduction workflows that speed up time to market  
Automated change request (ECR) and change order (ECO) processes  
Item and Bill of Materials management to reduce errors and improve collaboration 
Preventing and responding quickly to quality issues  
Staying connected 24/7 to your global supply chain 
11:00 AM The Value of Integrating Engineering Data and ERP
Join Milt Capsimalis, Head of North American operations and Nancy Cibotti, Channel Manager for coolOrange to learn more about the value of automating the sharing of engineering data with your ERP system to: 
Eliminate the need to maintain redundant data 
Reduce BOM errors and cut lead to production time 
Avoid purchasing the wrong product 
Automate document publishing of CAD files 
2:00 PM SigmaNEST Software by Cambrio
Join SigmaNEST Director of Sales, Brian Blair as he discusses the SigmaNEST product suite. SigmaNEST is the leading global provider of innovative end-to-end CAD/CAM software solutions to help professional fabricators increase ROI by optimizing material utilization, machine motion, manpower, and data management. This session will cover integration to MRP/ERP, SigmaNEST productivity, nesting just in time, job tracking & scheduling, inventory control, and shop floor integration.
3:00 PM Streamlining Manufacturing with Advanced CAM
Join Eric Strassheim, an engineer at NexGenCAM as he discusses the various CAM technologies and techniques to reduce your programming times by fifty percent. Eric will be joined by FeatureCAM expert, Andy Barney, and PartMaker expert, Phil Jennings.
Services Day – Wednesday, May 26th
9:00 AM Design Automation With or Without the Cloud
Join Senior Designer & Applications Specialist, Jerry Oye, and Applications Developer, Corey Andersen, as they discuss the components required to build a product configurator with two different methods.  Both methods include the use of iLogic within Inventor but one utilizes the Forge cloud-based development platform and the other utilizes the Vault Job Processor in an on-premise environment.
10:00 AM Applied Advanced Engineering & Analysis
Join Simulation and Mechanical Design Engineer, Alex Sinclair, as he discusses the advanced engineering and analysis capabilities of the Applied Engineering Advanced Analysis Team. Simulation and analysis can provide invaluable product insight and thus be of tremendous value to a wide variety of applications. Advanced analysis techniques can detect premature failure, reduce design cycle times, and decrease prototype costs, just to name a few. Several simulation types will be highlighted, ranging from static to complex dynamic, fluid flow, and thermal analysis.
11:00 AM Supporting the Factory
Is supporting the factory overloading your Engineering team?  Join Professional Services Director, Steve Thompson, and hear how Applied's Engineers are keeping production flowing. In this webinar, we will discuss engineering for line support, replacement parts, guarding, jigs & fixtures, and continuous improvement projects.
2:00 PM Applied Print & Image Services: Not Just for Architects
Join the Operations Director of Applied's Print and Image Services, Paul Bartron, as he discusses current printing capabilities and options to meet your needs. We will also discuss our partnership with Let's Bot 3D printing services. 
3:00 PM Embedded Systems: Meaning & Technologies
Join Operations Director of Software Development, Josh Rader, and Embedded Systems Engineer, Matti Kariluoma, as they discuss what embedded systems typically consist of and what some of the latest technologies are that are being used to develop embedded systems.