Manufacturing Efficiency – Diving Deeper

Many manufacturing companies could see increased operating efficiency. Some areas to assess include:
-Overall workflow                                     -Information Flow
-Material workflow (ex: forklift traffic)    -Work instructions
-Inventory accuracy                                  -MRP use/accuracy
-Technology on production equipment    -Work cell design
-Data flow                                                 -Non-value activities
-Real time KPI                                            -People processes
Applied Engineering can assess the relevant areas within your company and assist with the process of planning and implementing solutions to increase manufacturing efficiency.
Improving a company's manufacturing efficiency is a continual process.
Background: Establish a baseline (time studies, throughput, identify and record KPI), evaluate your process and conduct a workflow study, identify bottlenecks and areas for improvement.
Plan: Make an improvement plan based on you background data – i.e. leverage lean principles (minimize non-value actions), factory layout, software integration, manufacturing engineering software.
Implement Plan: Schedule the complete identified plan. Complete an ongoing evaluation during implementation.
Review: It is important to review the changes you've made and assess their level of success. This should be an ongoing process.
Contact Applied Engineering today to improve your manufacturing efficiency.
Accelerate Your Product Development Process with Generative Design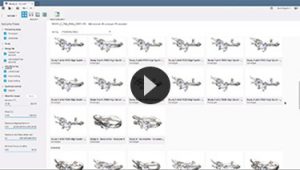 Engineers and designers often face the challenge of limited time, resources, and energy that can be spent on a given design problem. Generative design with Autodesk Fusion 360 allows you to overcome these challenges by taking manufacturing into account early in the design stage of the development process, allowing you to get to market faster and with better products. Check out the above video to see a demonstration on Fusion 360:
Click here to download a FREE TRIAL of Fusion 360
Top Reasons to Automate Design Work with Inventor iLogic
When you have tight deadlines or a long to-do list, the last thing you need is tasks that make you work more and accomplish less. How are you supposed to get anything done in a design process riddled with repetition and rework? Learn how automation tools inside Inventor help free up your time so you can focus on what matters most.
Stop wasting time on tedious tasks
Rapidly configure products to customer specifications
Measure up to your company standards
Skip the complex programming
Extend automation into downstream activities
 Watch the following video for a brief tutorial on how automating with iLogic can improve design work
.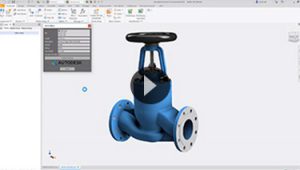 Click here to download a FREE TRIAL of Autodesk Inventor
Click here to download helpful documents about iLogic's workflow
Upcoming Webinars
Autodesk iLogic and Configurator 360 Webinar
Tuesday, November 5, 2019
11:00am Central Time
Register Now
Join us for a webinar on Autodesk® iLogic and Configurator 360. Autodesk Configurator 360 is a cloud-based software that enables engineers using Inventor to provide colleagues, sales reps, and end customers with web and mobile access to a 3D configuration of their products. iLogic enables rules-driven design, providing a simple way to capture and reuse your work. Learn how to use iLogic to standardize and automate design processes and configure your virtual products.
This webinar will discuss:
Typical Bidding Process
Design Automation
Sales Automation
Steps to Adopt Automation
Autodesk Vault Professional Webinar
Monday, December 9, 2019
11:00am Central Time
Register Now
Autodesk Vault Professional is a product data management application that provides a modular and practical approach to controlling your design data. It bridges the gap between CAD data and the manufacturing process. Learn how to track the life cycle of designs and materials used to manufacture a product, and manage what you make, buy, assemble, and deliver to customers.
This webinar will discuss HOW and WHY you should use Autodesk Vault Pro:
Searching for Models
Reusing Design Data
Managing BOMs
Processing Changes
Accessing Product Data from Web Browser
Protect Data with Vault Backup
AutoCAD Electrical Webinars
AutoCAD Electrical User Community Virtual Meetup
If you use AutoCAD Electrical, you don't want to miss this virtual meetup. Virtual meetups occur on the 3rd Thursday of each month. During the meetup, they will feature new Tips & Tricks and have open Q&A sessions with AutoCAD Electrical experts.
Thursday, October 17, 2019
10:00am Central
Register Now
Boost Your Productivity with AutoCAD Electrical
Join Autodesk to learn about all the timesavers AutoCAD Electrical provides to boost your efficiency. Webinar topics will include Schematic and Panel Layout design tools, Project Auditing tools, and Automatic Reports, including the Bill of Materials.
Thursday, November 7, 2019
10:00am Central
Register Now
Tips & Tricks: What's New in Inventor 2020
Frame Generator
Autodesk Inventor 2020 has made some user-requested upgrades to its frame generator. Check out this short video to see the new frame generator features or click here to see what other improvements have been made!
Last Chance! Save 20% When You Subscribe to Autodesk Software
There is still time to take advantage of this deal! Customers can get 20% off the suggested retail price for industry collections and most individual products when they purchase eligible 1- and 3-year term subscriptions – including AutoCAD, AutoCAD LT, Revit, Inventor, 3ds Max, and more.
Customers must submit qualifying serial numbers and all associated seats of release 1998 through 2019 perpetual licenses that are not on an active maintenance plan (any attached maintenance plan must have expired on or before April 30, 2019 for the perpetual license to be eligible for this offer). A valid, eligible serial number for each corresponding perpetual license must be submitted for this promotion.
This offer is only valid until October 25, 2019! Contact us today to learn more or to seize this opportunity.