What is Fusion Lifecycle?
Fusion Lifecycle is a Product Lifecycle Management (PLM) system that connects and organizespeople, processes, and informationimproving how companiescreate, build, support and evolveproducts and services.
Fusion Lifecycle Key Features:
Access Anywhere
Includes all Fusion Lifecycle Apps
Role Based Authoring
Process Workflow Creation and Definition
Workflow Signoff and Approval
Workspace Creation and Configuration
API Access
Fusion Lifecycle Licensing Rules:
Fusion Lifecycle licenses are available in Annual, 2 and 3 year terms. These are cloud products and are available in Single user subscription only.
All Fusion Lifecycle licenses must expire on the same date. When adding additional licenses, ensure they expire on the same date by co-terming or adding to an existing subscription agreement. Note exception below.
Fusion Lifecycle customers cannot combine Autodesk Fusion Lifecycle Professional and Autodesk Fusion Lifecycle Enterprise seats. These two license type cannot be in effect at the same time for a single customer.
Fusion Lifecycle Benefits:
Time-to-Market – ACCELERATE NEW PRODUCT REVENUE and REDUCE PROCESS CYCLE TIME
Productivity – INCREASE OVERALL EFFICIENCY and REDUCE DUPLICATION & WASTE
Cost & Risk – REDUCE MATERIAL COST & RISK and REDUCE REWORK, SCRAP, WARRANTY
Cash Flow – REDUCE INVENTORY and REDUCE IT INVESTMENT
Fusion Lifecycle Capabilities:
Manage with Pre-Built Apps
Item and BOMs
New Product Intro (NPI)
Changes (ECO, ECR)
CAD Data / Documents
Quality (NC, CAPA)
Project Execution
Suppliers / AMLs
Cost Analysis
Extend with Process Templates
Accident Reports
Asset Management
Equipment Maintenance
Engineer to Order
Deviation / Waiver Request
Field Failure Analysis
Return Merch Auth (RMA)
Supplier Audits & more …
Configure for Your Business
Reports & Dashboards
Advanced Workflow
Role-Based Access control
Role-Based User Interface
Custom Forms / Views
Standardize Descrptions
Project Templates
Item Classification
Profit from the Cloud
True Cloud, not Hosted
High Performance at scale
Universal 2D/3D Viewer
Fast, Contextual Search
Complete Audit Trail / History
3rd Party Collaboration
Cloud / On Prem Integrations
iOS and Android Mobile Apps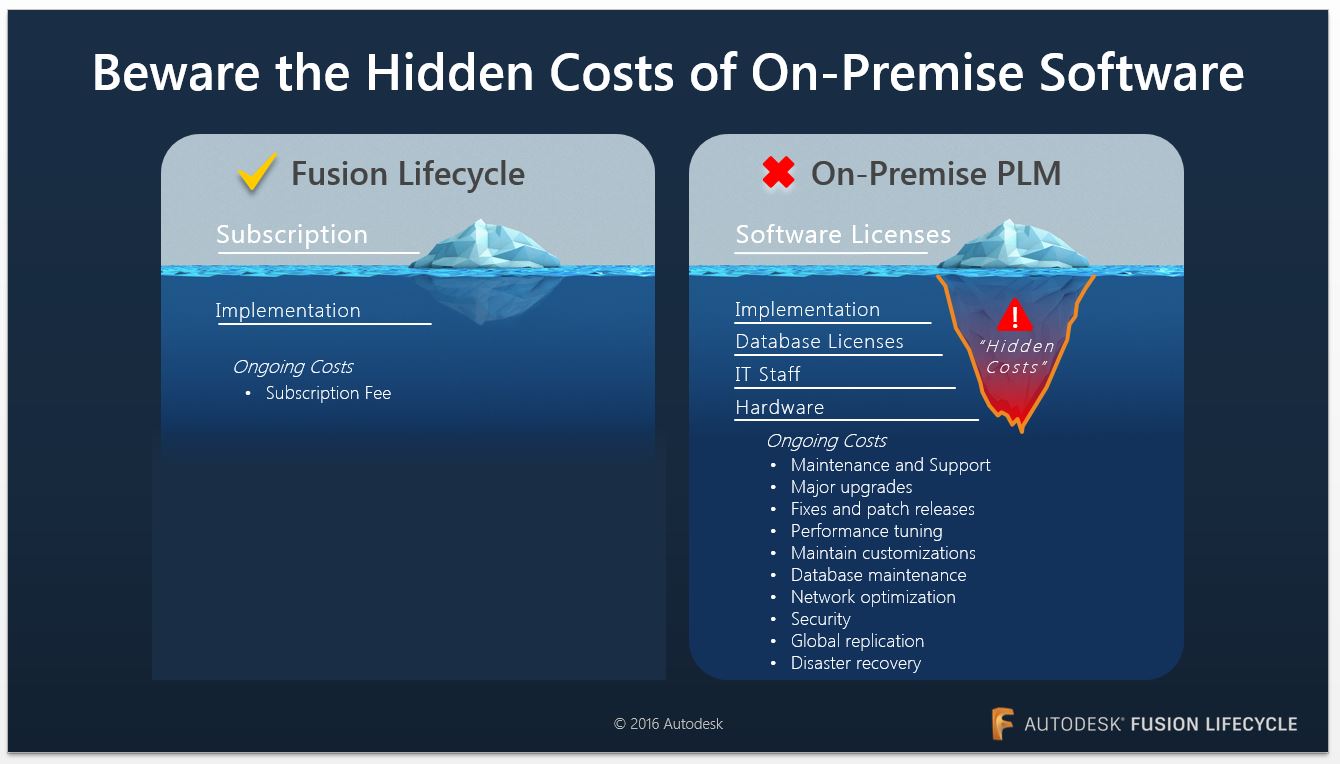 Contact Us if you have any questions or would like a quote.